Phantoms forward Cam Brown tweaks helmet after hit to face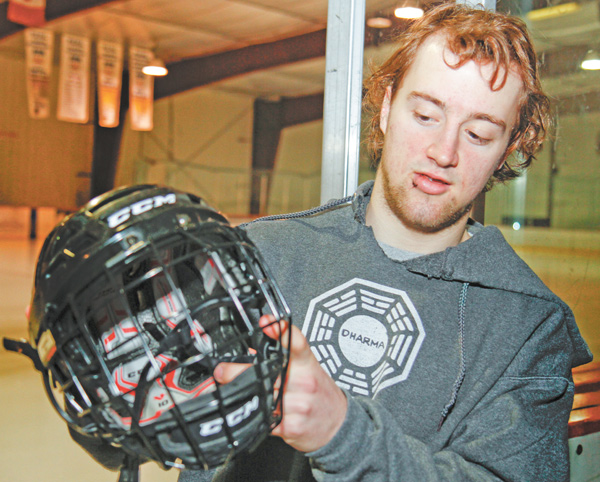 ---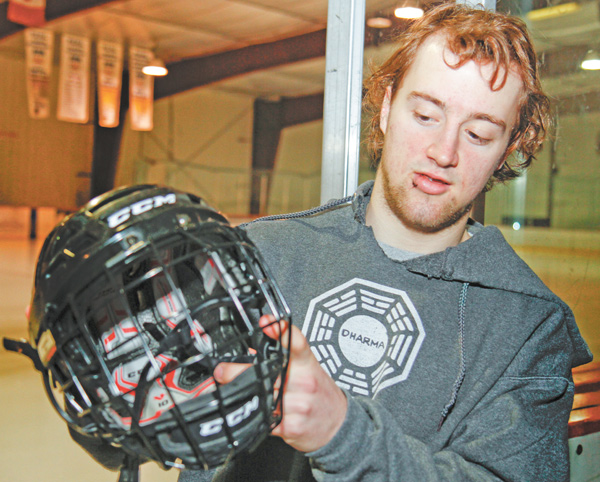 Photo
Youngstown Phantoms forward Cam Brown shows the caged helmet he wore in order to play in Saturday's game against Cedar Rapids. During Friday's game with the RoughRiders, Brown lost a few teeth after being hit in the mouth by a puck that struck him just below his helmet visor.
Phantoms forward Cam Brown
tweaks helmet after hit to face
By Tom Williams
BOARDMAN
How tough are hockey players? Youngstown Phantoms forward Cam Brown couldn't wait to see a dentist on Monday. Seeing an oral surgeon was a bonus.
In the final minute of last Friday's 6-3 loss to the Cedar Rapids RoughRiders, Brown was near the Phantoms' empty net and laid-out to block a shot. The puck struck him just below his helmet visor, knocked out two teeth and damaged two others.
"I didn't really have time to react," said Brown who added that he didn't black out, see stars or hear birds tweeting. "It happened so fast — shock and awe.
"It was definitely a little scary, too," Brown said after a recent practice at The Ice Zone.
Not scary enough to keep Brown out of Saturday's lineup.
"That just shows what kind of heart he's got, what kind of teammate he is," said defenseman Eric Sweetman who last season was hit in the chin by a shot. "Next shift after a blocked shot, you think about it.
"I didn't really cringe but I was shocked — you hate to see somebody on any team get hit in the face with a shot."
Brown played the next night, this time wearing a full cage mask instead of the visor. It wasn't hard to adjust. Brown said it took equipment manager Bill Sutton "about two seconds" to make the switch.
"I wore a cage the whole year last year and in the Eastern Hockey League, we had to wear cages," Brown said.
No one would have blamed him for sitting out, but Brown said it wasn't an option.
"I wanted to play, I love being at the rink every day," Brown said. "It's why I'm here — to play hockey."
Phantoms head coach Anthony Noreen said, "There's no quit in him. His compete level is as elite as any player I've ever seen, played with, or coached at any level."
Showing he hasn't lost his sense of humor, Brown said it's a story "I can tell [to impress] a few girls this summer."
After the hit, Brown skated to the bench but was immediately sent to the locker room by trainer Jim Schroeder.
"It was bleeding pretty bad," Brown said. "I got stitched up by the doctor. Saturday, we had a game and Sunday was Easter, hard to see a dentist."
At the dentist office on Monday, there was concern about his swollen lip and an oral surgeon was consulted.
This Monday, he'll visit the oral surgeon to determine what's next. One of his front teeth is loose — "it's a little diagonal right now."
Before Friday, Brown had never lost a tooth playing hockey, but he chipped one once wrestling with his brother.
Informing his parents — Sandy and Tim — in Natwick, Mass., was a challenge.
"It was kind of funny," Brown said. "My Mom had no idea [of what happened] and I sent her three picture messages of my mouth. She started freaking out."
His dad took a different approach. He said, 'You [now] can almost say you're a hockey player,'" Brown said. "But he was definitely concerned. They want me to get it fixed as soon as possible."
Before Saturday's rematch, Brown said he saw video of Pittsburgh Penguins captain Sidney Crosby being struck on the chin during an afternoon's game against the New York Islanders. Crosby lost teeth and suffered a broken jaw — he's is out indefinitely.
"His was a lot harder," said Brown, saying it didn't change his mind about taking the ice.
Brown is taking Ibuprofen for his mouth pain and an antibiotic for his lip. He conceded his mouth "felt sensitive" during Saturday's game, a 5-2 loss.
"It wasn't too bad," Brown said. "I just can't yell as loud for the puck — I kind of sound [unnatural] when I talk."
The Phantoms (33-25-0, 66 points) are on the road for games this weekend in Michigan, Illinois and Indiana. With six games to go in the regular season, they still have a chance to finish as high as second place.
The Phantoms have two games in-hand on the third-place Muskegon Lumberjacks (30-20-10, 70 points) and one game on the second-place Green Bay Gamblers (34-21-4, 72 points). The Gamblers and Lumberjacks play each other four times.
"These games are pretty important," Brown said. "We really want to [at least] get third place."