Elephants easily out-eat Youngstown police officers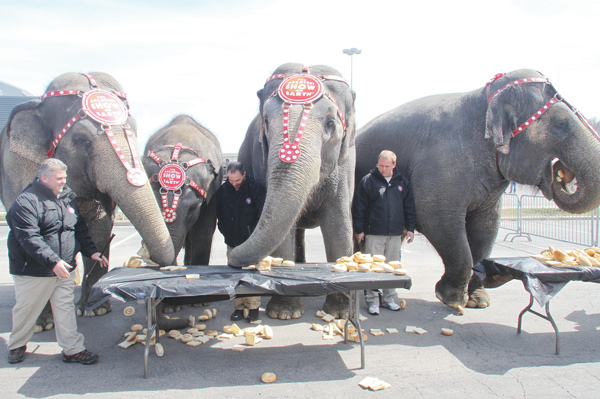 Photo
Four elephants with Ringling Bros. and Barnum & Bailey circus devour white bread, rolls and bagels on their way to an easy food-eating victory over three Youngstown police officers and an official with the city's police athletic league who ate doughnuts.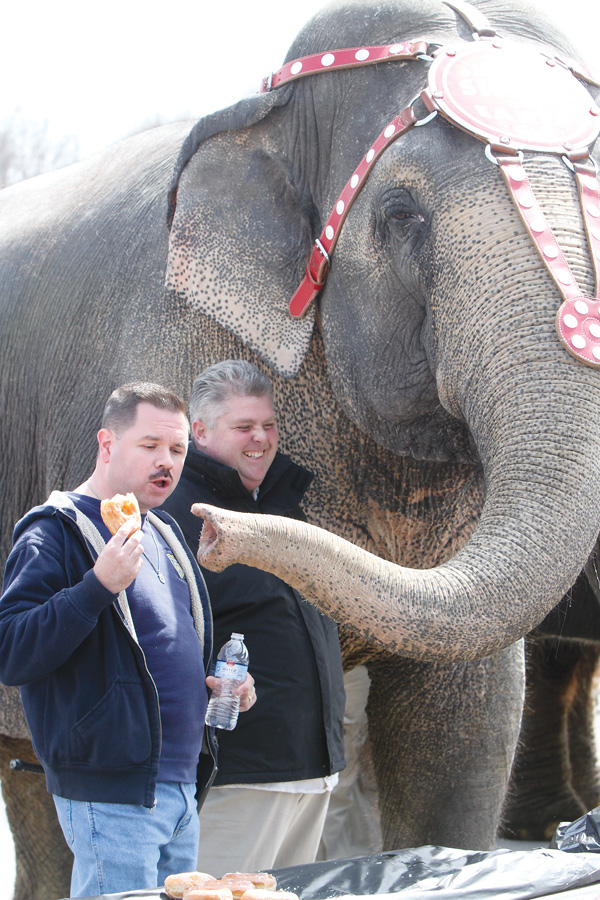 Photo
Youngstown police Patrolman Joe Moran tries to keep an elephant from eating his doughnut during a food-eating contest Thursday. Eventually, Moran gave the doughnut to the elephant.
YOUNGSTOWN
Who is better equipped to win a doughnut-eating contest than police officers?
The answer: elephants.
It was a mismatch, to say the least.
Three Youngstown patrolmen and Jim Sobien, mentor coordinator for the Youngstown Police Athletic League, squared off against four elephants, ranging in weight from 4,500 pounds to 10,900 pounds, outside the Covelli Centre on Thursday in a doughnut-eating contest.
Well, the cops and Sobien ate glazed doughnuts, and the elephants ate mountains of white bread, rolls and bagels. But after the four elephants polished off all that food, they moved over and devoured the pile of doughnuts in front of Patrolman Joe Moran.
One elephant tried to take a doughnut out of Moran's hands. Realizing he wasn't going to win that fight, Moran gave the doughnut to the elephant.
"I was trying not to get eaten," Moran said.
Even Patrolman Mike Quinn, tipping the scales at 300 pounds and a long-time doughnut lover, said the contest heavily favored the elephants.
"I was star-struck by the elephants and their pure eating ability," he said.
The event helped promote Ringling Bros. and Barnum & Bailey circus, which has two performances today at the Covelli Centre, at 3 and 7 p.m., and three shows each on Saturday and Sunday, at 11 a.m., 3 and 7 p.m.
Also, the circus donated 200 tickets to the city's police athletic league for kids to see the shows.
"It definitely was for a good cause, and that's what we're here for," Quinn said.
The officers ate about a half-dozen doughnuts each, some a bit daintily, taking bites in between sips of water.
Patrolman Mike Anderson, who's not a big doughnut fan, tried at one point to "smash doughnuts together" to eat more.
"It didn't work," he said. "We lost to the elephants."
Anderson and the others couldn't compete with the large elephants and their poor table manners.
The elephants used their trunks to push all of their food from tables onto the ground before eating. They then ate all of the bread, rolls and bagels in a few minutes.
"Only the bravest of the brave do this," Quinn said of competing in a food contest against elephants.
Among the spectators was Matt Lloyd of Girard and his 2-year-old son, Alex, who saw elephants for the first time Thursday.
After the contest, Alex kept pointing in the direction of the elephants and said, "Bye." The two have tickets to a Saturday circus performance.
"We're both excited to see the show," Matt said.