Turocy, Zips spoil Penguins' home opener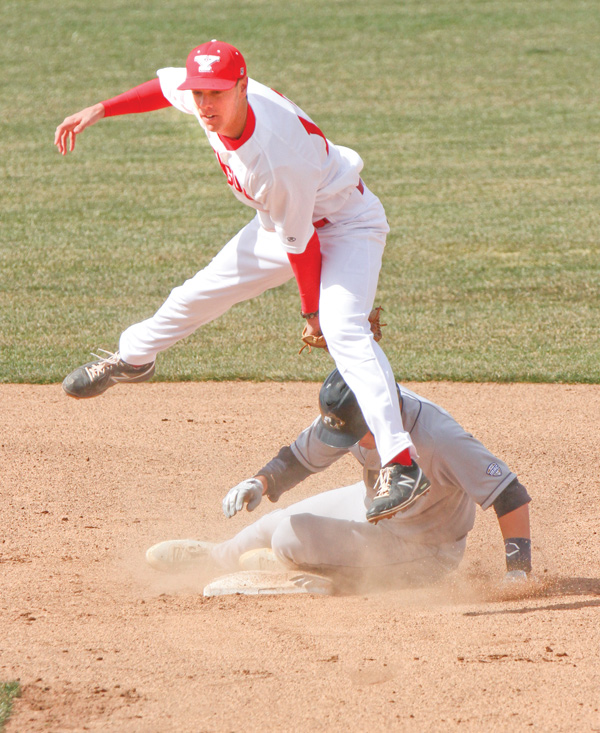 ---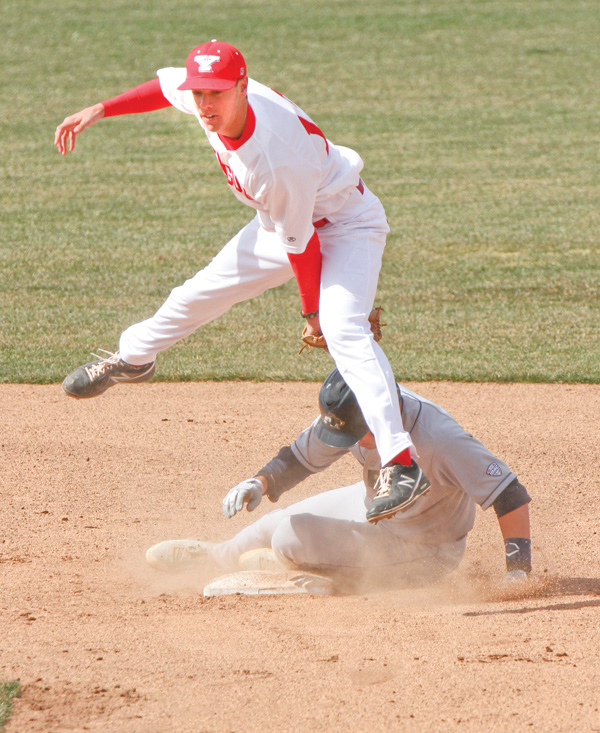 Photo
Youngstown State's Phil Lipari (13) tags out Akron's Kris Simonton (7) in a double play during the Penguins' home opener Wednesday at Eastwood Field in Niles. YSU rallied but came up short, losing to the Zips, 5-4. Canfield's Jared Turocy accounted for four of Akron's runs after hitting a two-run homer in the second and a sacrifice fly in the third.
By Steve Wilaj
NILES
Akron's Jared Turocy took full advantage of a familiar setting at Eastwood Field on Wednesday.
Turocy, a 2009 Canfield High graduate, hit a two-run home run and had three RBIs as the Zips spoiled Youngstown State's home opener, 5-4.
"It was nice," Turocy said. "We've been struggling a little bit recently, so it was nice to come back and get working and get a win."
Turocy launched a towering fly ball that banged off the wall behind the YSU bullpen in the top of the second inning. It was the senior's first college home run.
"I was glad I got to do it close to home," said Turocy, who started in left field. "I got a pitch I could hit and did what I wanted to do with it. I guess it was just right pitch, right time."
It was bad timing for Turocy's parents, who are out of town. Still, he had a fair amount of family in the stands.
"My grandparents were here and my aunt was here," Turocy said. "But [my parents] were on the phone with the grandparents the whole time for my at-bats. It's always nice."
Turocy is hitting .379 (11 for 29) in 12 games. He followed his monster shot with a sacrifice fly in the third inning to stretch the Akron lead to 4-0.
YSU (7-20) battled back in the fifth inning.
An RBI groundout by Jason Shirley brought home the Penguins' first run. They added another run when Shirley scored following a throwing error by Akron third baseman Billy Salem.
Trailing 5-2 in the seventh, YSU cut the deficit to 5-4 on RBI singles from Shirley and Accardi.
Pat Shedlock (0-2) started for the Penguins. He worked two innings and allowed four earned runs on four hits.
Relievers Russ Harless, Erik Okleson, Patrick O'Brien and Nic Manupelli allowed only one run over the final seven innings.
YSU got runners as far as third base in the the eighth and ninth, but each was stranded.
"It was definitely a game that we had opportunities and had we executed a little better, the score could have easily flipped in our favor," said first-year Penguins coach Steve Gillispie.
Accardi, who led the Penguins with two hits, called the missed chances "frustrating."
"It's tough, especially how we fought back after the fifth inning and played really well," he said. "It's just a tough break that we didn't get the hits when we needed, especially in the ninth inning."
David Saluga and Josh White also had two hits for YSU. Michael Steensen (1-1) started for Akron and went five innings, allowing just one run. Samuel Trecaso pitched two innings to earn the save for the Zips (5-21).