RICE FIRED : Boardman grad loses job over slurs, abuse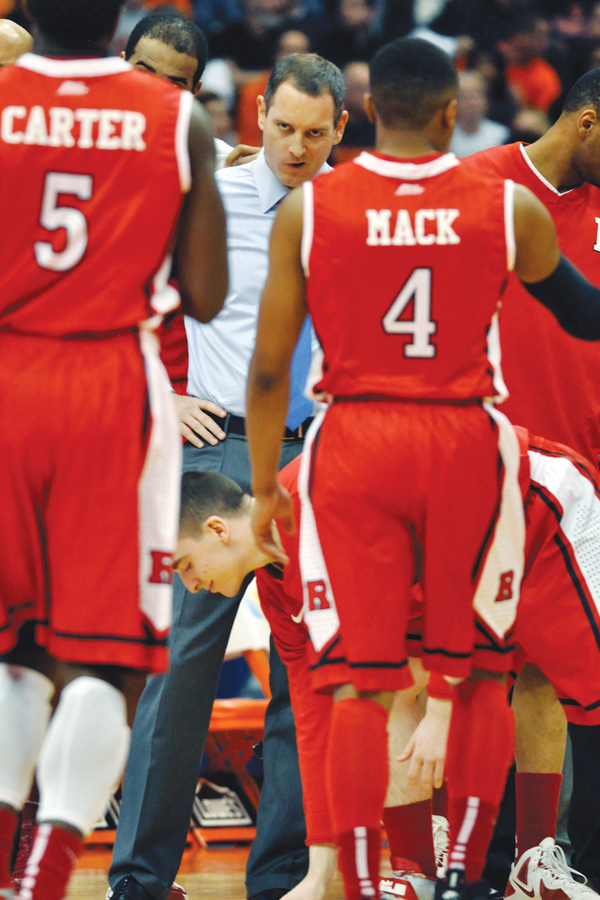 ---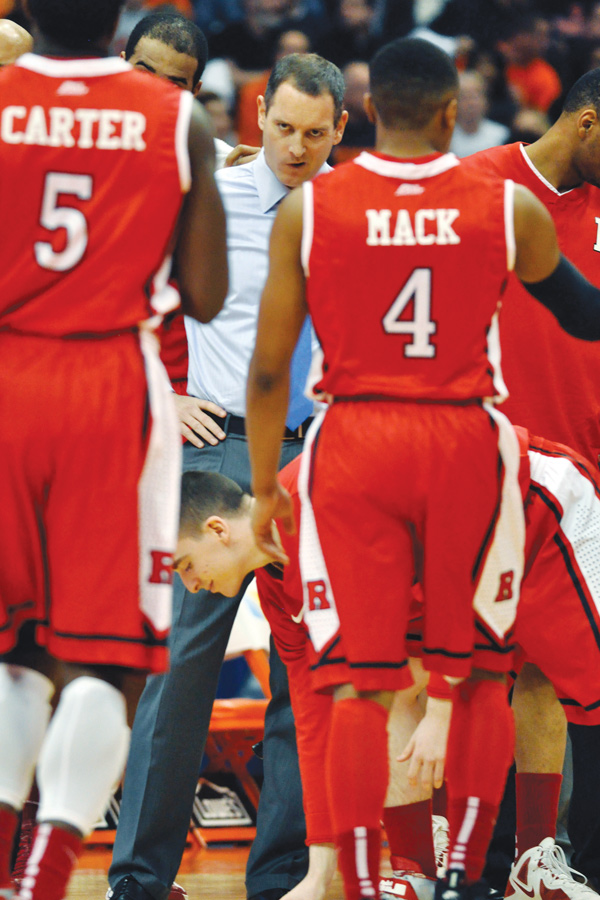 Photo
Rutgers head coach Mike Rice glares at his players during a timeout at a game against Syracuse. Rice, a Boardman graduate, was fired by the university Wednesday after a videotape aired showing Rice using gay slurs, shoving and grabbing his players and throwing balls at them in practice.
CAUGHT ON VIDEO: BOARDMAN GRADUATE LOSES JOB OVER SLURS, ABUSE
Associated Press
PISCATAWAY, N.J.
Once the video went viral, Mike Rice's coaching days at Rutgers were over.
Now the question is whether anyone else will lose their jobs — including the athletic director who in December suspended and fined Rice for the abusive behavior, and the university president who signed off on it.
Rice was fired Wednesday, one day after a video surfaced of him hitting, shoving and berating his players with anti-gay slurs. The taunts were especially troubling behavior at Rutgers, where freshman student Tyler Clementi killed himself in 2010 after his roommate used a webcam to spy on him kissing another man in his dorm.
It also came at an especially embarrassing time for the NCAA, with the country focused on the Final Four basketball tournament this weekend.
Rice, in his third season with the Scarlet Knights, apologized outside his home in Little Silver, N.J.
"I've let so many people down: my players, my administration, Rutgers University, the fans, my family, who's sitting in their house just huddled around because of the fact their father was an embarrassment to them," he said. "I want to tell everybody who's believed in me that I'm deeply sorry for the pain and hardship that I've caused."
Athletic Director Tim Pernetti was given a copy of the tape by a former employee in November and, after an independent investigator was hired to review it, Rice was suspended for three games, fined $75,000 and ordered to attend anger management classes. University President Robert Barchi agreed to the penalty.
Pernetti initially said Tuesday he and Barchi viewed the video in December. The president issued a statement Wednesday, saying he didn't see it until Tuesday and then moved to fire the 44-year-old coach for repeated abusive conduct. Through a school spokesman, Pernetti backed up his president and said Barchi did not view the video until this week.
"Yesterday, I personally reviewed the video evidence, which shows a chronic and pervasive pattern of disturbing behavior," Barchi said in a statement. "I have now reached the conclusion that Coach Rice cannot continue to serve effectively in a position that demands the highest levels of leadership, responsibility and public accountability. He cannot continue to coach at Rutgers University."
The video shows numerous clips of Rice at practice during his three years at the school firing basketballs at players, hitting them in the back, legs, feet and shoulders. It also shows him grabbing players by their jerseys and yanking them around the court. Rice can also be heard yelling obscenities and using gay slurs.
Several college coaches said they had never seen anything like the Rutgers video and it broke a cardinal rule: Never put your hands on a player.
"Don't tell me that's the old way. That's the wrong way," said John Thompson Jr., the Hall of Famer who led Georgetown to the 1984 national title. Thompson, the father of current Hoyas coach John Thompson III, called the images "child abuse."
UConn women's coach Geno Auriemma, winner of seven national titles, said "there is no line that could be drawn that would make that behavior acceptable."
The most famous case of a coach accused of abusing a player is the one involving Bob Knight of Indiana. The university put him on a zero-tolerance policy in 2000 after an investigation into a former player's allegations that the coach had choked him during a practice. When a student alleged that Knight grabbed him later that year, Knight was fired. Knight, who now works for ESPN, couldn't be reached Wednesday.
The Rice video drew outrage on campus and all the way to the capital in Trenton, with lawmakers and New Jersey Gov. Chris Christie supporting the firing at the state's flagship public university.
"This was a regrettable episode for the university, but I completely support the decision to remove Coach Rice," Christie said in a statement. "It was the right and necessary action to take in light of the conduct displayed on the videotape.
"Parents entrust their sons to the Rutgers athletic department and the men's basketball program at an incredibly formative period of their lives. The way these young men were treated by the head coach was completely unacceptable and violates the trust those parents put in Rutgers University. All of the student-athletes entrusted to our care deserve much better."
Pernetti took responsibility for trying to rehabilitate Rice instead of firing him.
"Dismissal and corrective action were debated in December and I thought it was in the best interest of everyone to rehabilitate, but I was wrong. Moving forward, I will work to regain the trust of the Rutgers community," he said.
Rice, who helped Robert Morris to two NCAA tournament appearances, was one of the hot coaching candidates in the spring of 2010. But he wasn't able to push Rutgers into the upper echelon of the Big East Conference, and went 44-51. Rice was 16-38 in the Big East, after going 73-31 in three seasons at Robert Morris. The Scarlet Knights went 15-16 this season and 5-13 in the league.
The firing means Rutgers has now seen its last four coaches dismissed for poor decisions and controversy, rather than simply wins and losses.
Rice was Pernetti's first major hire after getting the AD's job.