Published: Thu, April 4, 2013 @ 12:00 a.m.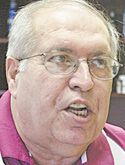 Photo
Staff report
YOUNGSTOWN
Ben W. Lupo, the embattled founder of D&L Energy, recently charged with violating the Clean Water Act, has resigned as trustee and director of the company, handing the reins to his wife, Holly Serensky Lupo.
The revelation comes after Lupo's lawyers filed documents with the Ohio Oil and Gas Commission, which is set to begin hearings on the state's decision to revoke the company's operating permits this month.
Those documents show that Lupo resigned Feb. 15.
Lupo is beset by litigation after he was charged by the federal government with violating the Clean Water Act.
On Jan. 31, he purportedly ordered an employee at Hardrock Excavating, which he owns, to dump a mixture of oil and drilling waste down a storm drain on Salt Springs Road where the company shares headquarters with D&L.
Federal and state regulators launched a criminal investigation, and already compounding legal matters grew worse for Lupo and several of his companies when the federal indictment came down; D&L and Hardrock had their operating permits pulled after the incident. Hardrock hauls drilling waste, and D&L disposes of it in injection wells around the state.
A hearing April 12 will determine whether to suspend temporarily the Ohio Department of Natural Resources' decision to revoke D&L's permits, until a more extensive hearing on the decision takes place with the Oil and Gas Commission in May.
Lupo's attorneys argue that D&L should not be penalized for the actions of Hardrock.