Struthers mayor, council clash over resolution honoring businessman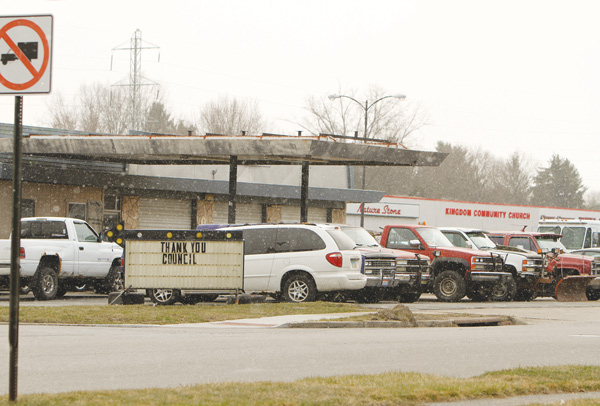 ---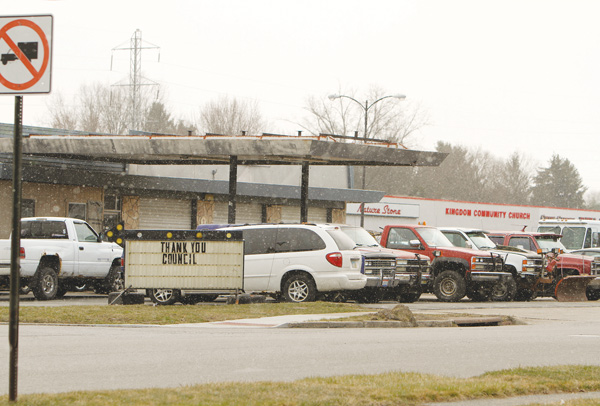 Photo
Struthers Mayor Terry P. Stocker has vetoed a resolution that would honor the owner of Charlie's Service Station, above, located in front of the Struthers Plaza on Fifth Street. Stocker said the business is an eyesore to the community because of the dilapidated vehicles parked around it.
By Danny Restivo
Struthers
If city council overrides a mayoral veto, it could lead to a resolution that would honor a local business owner with a history of city code violations.
Mayor Terry P. Stocker said honoring Charles Jasinski and Charlie's Service Station on Fifth Street would send the wrong message to other business owners and residents in the city.
"How can we pass legislation commending someone for operating a long-standing business that is facing criminal charges?" said Stocker.
Jasinski, who turned down an interview request by the The Vindicator, is facing misdemeanor charges of having unlicensed vehicles and inoperable vehicles at his auto-repair business in front of the Struthers Plaza. He is scheduled to appear in municipal court May 8.
Since 1999, Jasinski has been charged four times for violations stemming from his auto-repair business.
Stocker said Jasinski's business has gotten worse recently with an increase of dilapidated vehicles around the plaza parking lot. The mayor said it's becoming an eyesore for residents and a deterrent to potential business growth.
"Sometimes, it looks like a junkyard," said Stocker.
On March 13, council approved a motion "honoring Charlie's Service for over 30 years" by a 6-1 vote. On March 22, Stocker wrote a letter to council explaining his decision to veto the legislation. In the letter, Stocker said "to condone such action in part, is a direct conflict with laws passed by your own legislative branch."
He also said the proposed legislation "serves to be an injustice to my administration and to our legal system by impeding the abilities of the executive branch of government to enforce and promote the good health and welfare of our great community."
Michael Patrick, councilman at-large and sponsor of the resolution, said the city always has recognized business owners who have worked in the city for more than 30 years. Patrick said Jasinski has worked with city officials on all the issues. He also said Jasinski has been a visible member of the community through volunteer service with youth baseball, bowling leagues and his willingness to help repair vehicles for people down on their luck. He said his service to the city makes the resolution appropriate.
"He has cooperated with city officials every time this has come up," said Patrick. "He's been there a long time, and he's helped a lot of people."
Patrick said residents who know Jasinski have voiced their support for the resolution. He also said council would discuss the matter during a finance-committee hearing at 6:30 p.m. today in the council caucus room.
According to Ohio law, council needs five of seven votes to override a mayoral veto. Patrick said he's talked with other councilmen who were willing to vote to override the veto, but he couldn't say for certain if it would succeed.