Ursuline, Canfield baseball teams set for 2013 season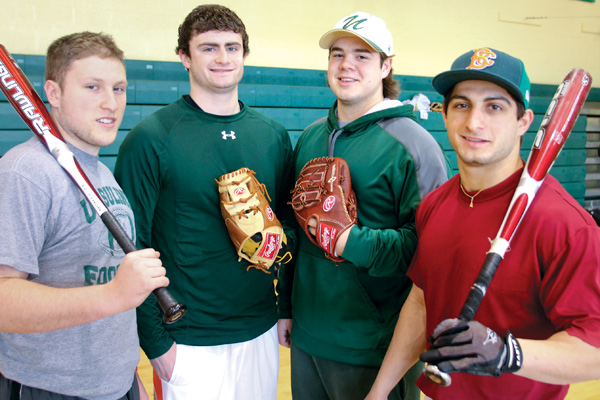 ---

Photo
While Ursuline's and Canfield's high school baseball programs both lost regional championship games last spring, this season will be different, at least at the start. The Irish return all but one starter, including a quartet of four-year starters — from left, Harry Finelli, Ryan Strollo, Sam Donko and Anthony Rohan.
Ursuline loaded, Canfield reloads after successful 2012 campaigns
By Doug Chapin
The recent historiesof the Ursuline High and Canfield High baseball programs are very similar. Both teams lost regional championship games last spring and, in the previous season, both lost in the regional semifinal round.
A big difference in the programs is what the 2013 rosters look like. The Irish return all but one regular starter from last year while the Cardinals will have to replace eight everyday starters.
"They have high goals, we were a half-inning from Columbus last year," Ursuline coach Sean Durkin said of his veteran players. "The kids have high expectations and believe in each other. If everything goes well this year and we continue to grow we can take that step."
"Early on we may take some lumps, we expect we'll make some mistakes, both mental and physical," Canfield coach Matt Koenig said of his inexperienced squad. "We keep telling the guys that as the season progresses they should learn from those mistakes. We can't keep making the same mistakes over and over again."
Ursuline lost 12-11 to Grand Valley in the Division III regional final last year, finishing 18-6 on the season. The previous season, the Irish were beaten 5-0 in a regional semifinal by LaGrange Keystone.
Canfield was beaten 4-3 in 2012 by Lake Catholic in the Division II regional final, finishing at 20-6. Lake Catholic also beat the Cards by a 9-6 score in the regional semifinal round the previous season.
The last trip to the state tournament for both programs was 2007, the year Canfield won its only baseball state title in three trips to the final four. Ursuline has two state titles (1988, 2000) and has two runner-up finishes in seven trips to state.
Both coaches said they have been in similar circumstances previously with their respective programs.
"We've had some years with a lot of returning starters from teams that had success and this is pretty similar," Durkin said. "Four of our seniors — Sam Donko, Anthony Rohan, Harrison Finelli and Ryan Strollo — started every day as freshmen and we've got a couple others who are in their third year as starters.
"We have a lot of tournament experience. We've been very close the last couple of years and we hope to take the next step this year."
"When the team we had last year were juniors we were in a similar situation," Koenig said. "We had a senior-laden team in 2010 that lost in the district final to West Branch. In 2011 most of our juniors were first-year starters and they made it to the regional semifinal where we lost to Lake Catholic."
As one would expect in a successful baseball program, pitching is a big key. Donko was 7-3 last year for Ursuline with a 1.23 ERA and 105 strikeouts.
"I think we have good pitching depth and position-wise, our middle has not changed in recent years," Durkin said. "I think that's always a key in baseball, being strong defensively up the middle.
"On offense, our experience is huge. A lot of our kids were facing seniors as freshmen and sophomores and now they are seniors."
Canfield, which is playing this week in the Mingo Bay Classic at Myrtle Beach, S.C., returns pitchers Alec Buchenic, a junior, and senior Derek Turocy. Both were 5-0 a year ago and Turocy, also an outfielder, is the Cardinals' lone returning position starter.
"One of our strengths is going to be pitching," Koenig said. "Buchenic was, as a sophomore, one of our top starters and we think he'll continue that pace this year. The rest of the staff are guys who pitched in relief roles and on the JV team which didn't lose a game last year.
"The guys coming in are talented guys. The juniors this year are really pushing the senior class and making the seniors that much better. I think competition is the best thing for our kids."
Despite dissimilar outlooks as the new season begins, don't be surprised that when it ends both Ursuline and Canfield will be back in the hunt for a trip to Columbus.