Austintown trustee seeks meeting with Kasich about racetrack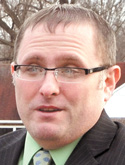 Photo
AUSTINTOWN
Frustrated by the Ohio State Racing Commission's insistence that an Austintown racino proposal include more indoor seats with racetrack views, township Trustee Jim Davis is trying to take his complaint to a higher power.
In an email to Erik F. Yassenhoff, assistant director of policy for asset management for Gov. John Kasich, Davis, the trustees' chairman, asked to have the governor contact him so he could address his concerns with the commission's "process. I would also ask that he assign a liaison to bring all current requested issues that the racing commission has with "exact numbers and requirements" so Penn National Gaming knows what is required to build the Hollywood Slots at Mahoning Valley Race Course in Austintown.
Davis, who sent the email Friday, said he's tried to contact various Kasich administration officials, and none has responded to his calls and emails.
Kasich, who appoints members to the commission, won't get involved, said Rob Nichols, the governor's spokesman.
Davis wants the governor to "push these independent commissions around. What [Davis is] asking us to do is not appropriate," Nichols said. "While we want Austintown and the racetracks to be successful, [Davis] wants us to lean on them. They're doing their job, and we'll keep letting them do their job."
Seating with views of the racetrack, and proper facilities for horses and jockeys have been the main issues of concern for the commission which must approve a racing license for Penn National to move its track in suburban Columbus to Austintown.
Penn is paying a $75 million relocation fee and $50 million license fee to the state for the Austintown track.
Each facility will cost $125 million to construct with 1,000 construction jobs, 1,000 jobs at the track and spinoff jobs from companies, including hotels, relocating near the Austintown track, Davis said.
"We can't afford to lose this racetrack," he said.
But it's the slot machines that will drive business at the proposed Austintown facility, Penn officials have said.
Penn will start with 1,500 electronic slot machines, but state law permits the company to go up to 2,500.
Penn's current plans include indoor and outdoor seating with track views for more than 1,160 people. In response to earlier commission concerns, the company increased indoor seating with views of the track to 518 from just more than 200.
The racing commission recently asked Penn to consider even more seating.
Company officials want to open the racino next year, and say changes to the building's proposed footprint likely would add four to six months or more to that timeline.
Davis said, "My township cannot afford to see this project fall apart due to poor communication from the state to investors who are trying to spend $125 million in my community."
The trustee said the racing commission needs to come up with specific guidelines on what is required.