Bryan's fortunes tied to Berassa's health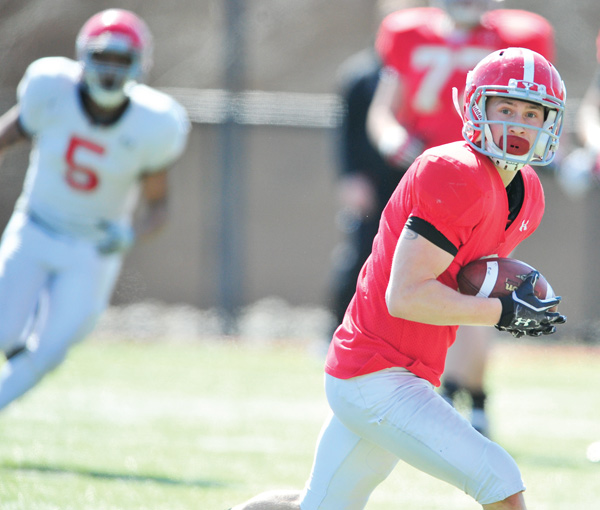 ---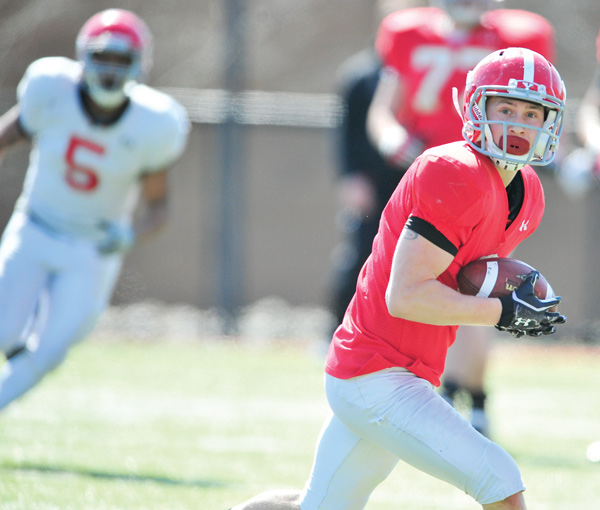 Photo
The return of Jelani Berassa will allow Youngstown State receiver Christian Bryan to return to his more natural position as YSU's No. 2 receiver.
By Joe Scalzo
YOUNGSTOWN
Christian Bryan stands just 5-foot-10 and weighs (allegedly) 185 pounds and if you're wondering why his statistics dropped last season, it has everything to do with physical limitations.
Not his. Jelani Berassa's.
When Berassa (6-4, 210) hurt his ACL last summer, he hurt the Penguins' whole receiving corps. Bryan was Exhibit A, catching just 30 passes for 372 yards and three TDs as YSU's No. 1 receiver last season after setting YSU freshman records with 46 catches for 722 yards in 2011.
"I really benefit from playing with Jelani," Bryan said. "You have a bunch of different types of receivers. You've got speed guys, you've got possession guys. Jelani's got it all.
"He's a big target, he's got speed, he runs great routes, he has great technique, he plays with great effort. He's someone you have to focus on if you're on defense and that opens up things for everybody else."
Berassa's (expected) return this fall, along with Andrew Williams' development, will allow Bryan to return to his more natural position as YSU's No. 2 receiver. Berassa is more than a matchup problem; he's generally considered one of the team's hardest-working players and one of its best leaders.
"I've learned a lot from him," Bryan said. "I really like watching him on film and seeing the things he did. Just being next to him on the field, there's a little connection between us as receivers.
"It [his injury] took a little dimension out of our offense but at the same time, the other receivers really learned and now we're getting better so other people can step up."
Added YSU coach Eric Wolford, "With Jelani Berassa going down, I don't think he had the same year he had as a freshman but I think he's over that. He's a great route runner and he's been consistent catching the ball for us."
Bryan approaches every practice like he's trying to earn a job, which is why his spring goals sound so similar to that of a freshman.
"I just want to keep proving myself, working hard, giving it all I've got," he said. "I want to show the coaches I can be a reliable target for us, someone they can rely on, that they can throw into any position and I'll make a play.
"I'm not the fastest, I'm not the biggest, but I'm gonna work hard. I'm gonna play with my brains and use my smarts and try and out-technique people."
Notebook
YSU lost two players for the rest of spring practice. Senior RB Adaris Bellamy has a third degree sprain in his AC joint and senior OT Andrew Sinko fractured his scapula. Both were projected starters. "This gives some other guys opportunities," Wolford said. "Hopefully we have enough depth that we can sustain a couple injuries and still play at a high level." ... With sophomore TB John Medina injuring his knee, junior Parnell Taylor was switched from CB to running back, his original position. "I feel strongly Parnell Taylor is one of our 30 best athletes, maybe 22," Wolford said. "He wasn't starting at nickel, so for him to not be playing a significant amount other than special teams isn't good. So this gives us a chance to look at him over here." ... Sophomore WR Michael Wheary missed practice after having an ingrown toenail removed.