Gasearch loaned $304,000 to Lupos, but quit paying executive salaries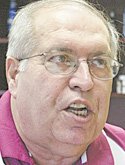 ---
YOUNGSTOWN
Gas marketing company Gasearch LLC terminated a $12,500-a-month salary to Susan A. Faith, while it lent $304,000 to Benedict Lupo and his wife, Holly, a witness testified in a pretrial hearing in Faith's civil lawsuit against Ben Lupo and three of his companies.
Faith's lawyer, Randolph S. Snow of Canton, who said Faith's compensation was required by a court order, elicited this testimony Monday from Nicholas C. Paparodis, president and chief executive officer of D&L Energy Inc. — a Ben Lupo-owned company that lent $345,000 to Gasearch last fall.
The breach-of-contract lawsuit by Faith, of Girard, and 15 other plaintiffs is before visiting Judge Thomas J. Pokorny of Mahoning County Common Pleas Court.
Ben Lupo, 62, of Poland pleaded innocent to a federal criminal charge of violating the Clean Water Act in a Jan. 31 discharge of brine and oil-based drilling mud into a Mahoning River tributary, which he purportedly ordered.
In Monday's civil lawsuit hearing, Snow tried to call Ben Lupo as his first witness, but Lupo's lawyer, David P. Bertsch of Akron, said Lupo was not present and that he did not believe his client had received a subpoena.
In her lawsuit, Faith said Ben Lupo told her in October 2011 that she was terminated as president of D&L, the company that operated an injection well on the city's West Side, which state officials shut down after a series of 2012 earthquakes linked to it.
When she filed her suit in 2011, Faith owned 49 percent of Gasearch and Ben Lupo, 2 percent.
The lawsuit says Ben Lupo owns 85 percent of D&L, which is a defendant in the lawsuit, and Faith 15 percent of it.
Faith is seeking a court order designating her to replace Ben Lupo as Gasearch manager because she said the cloud over him stemming from the pending criminal charge prevents him from successfully marketing oil and gas.
"D&L had to loan Gasearch money over the last three months of 2012, so it would be my assumption that there wouldn't be substantial money to pay anybody outside of the operational employees," Paparodis testified.
Paparodis said the Lupos, who are D&L's directors, appointed him as D&L's president and chief executive officer on Feb. 15, 2013, and that he previously had been executive vice president and vice president of land operations for that company.
As far as he knew, Paparodis said the Lupos, who are Gasearch's managers, made the decision to stop paying Faith in December 2012.
From the witness stand, Paparodis read from a Sept. 30, 2012, financial statement showing Gasearch lent Ben Lupo $208,000 and from a Dec. 31 financial statement showing that company lent $30,206 to Holly Lupo.
Those loans grew to $258,000 and $46,000, respectively, by Jan. 31, 2013, according to Gasearch's financial reports, Paparodis testified.
Faith testified she has not been paid her Gasearch salary since Dec. 21, 2012. Bertsch elicited testimony from her that she learned last August that the Lupos had stopped paying themselves their combined salary of $12,500 per month from Gasearch.
Paparodis testified that D&L has 580 operating wells and 21,000 acres under oil and gas drilling leases.