Hubbard man appears in court for stolen statue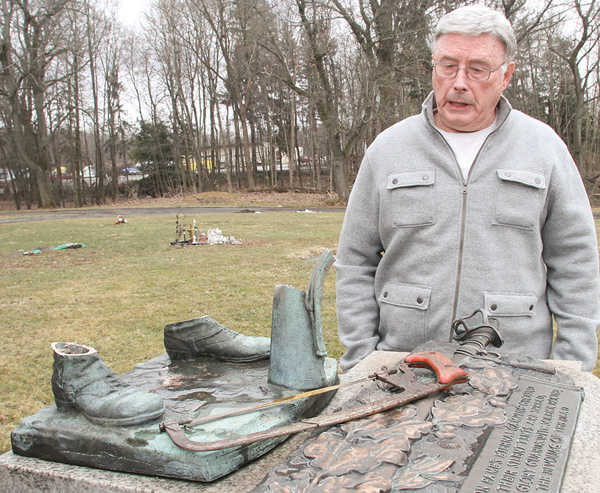 ---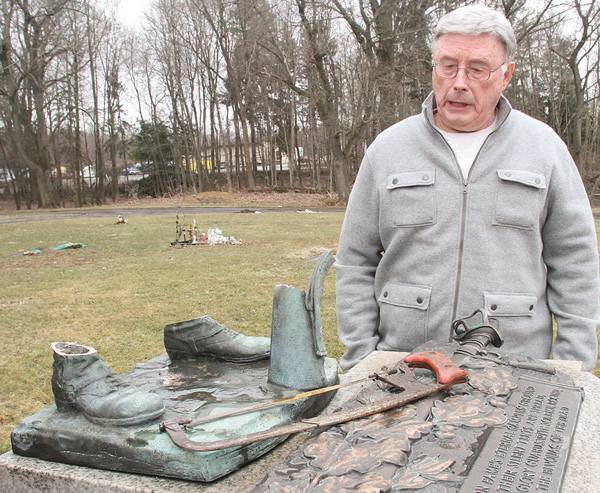 Photo
Gary Pollock, cemetery overseer at Mahoning Valley Memorial Park in Youngstown, looks over a monument where a military statue was sawed off with hacksaw last week. Police made an arrest in the theft Monday.
By Danny Restivo
Girard
A Hubbard man accused of stealing a $36,000 brass statue before scrapping parts of it for just $25.50 appeared in municipal court Monday.
Richard R. Couturiax, 30, of North Main Street, is facing one felony count of receiving stolen property and one misdemeanor count of theft after police said he stole a 4-foot brass statue of a soldier from Mahoning Valley Memorial Park in Youngstown.
Couturiax then tried to scrap it for cash at the Girard Recycling Center, a police report said.
According to Ohio law, if the value of the property involved is $1,000 or more, receiving stolen property is a felony of the fifth degree.
Couturiax was arrested Monday. He was then brought to court for his initial appearance.
The judge set Couturiax's bond at $82,500 for the charges of receiving stolen property and theft. He did not post bond and is in the Trumbull County Jail. He did not enter a plea Monday.
The cemetery on Youngstown-Hubbard Road contains the final resting place of those who once defended the country. The bronze statue stood guard at the front of the cemetery the last four decades. The vandalism came to light when the widow of a veteran arrived with hopes of planting Easter flowers on the grave of her husband.
Youngstown police notified Girard city officers Wednesday of the stolen statue.
Girard police said the recycling center produced seven pieces of the statue, including a rifle and a hand. Workers also produced a receipt for the metal that showed Couturiax received $25.50 for the metal. Girard police collected the brass before photographing it and returning it to park managers.
Gary Pollock, one of the overseers of the memorial park, was outraged when he saw that someone would be so disrespectful to the veterans buried there and their families. Pollock said he found out the accused thief had been caught while watching the evening news Monday night, but it brought him little satisfaction because he says the potential for a replacement is bleak.
"The cost to replace this statue is sizable, and we don't have that kind of money and neither does the park," said Pollock. "It's not going to put the statue back together."
Couturiax is scheduled to be back in municipal court Wednesday at 1 p.m. for a pretrial hearing.