Former Poland star back with USA Softball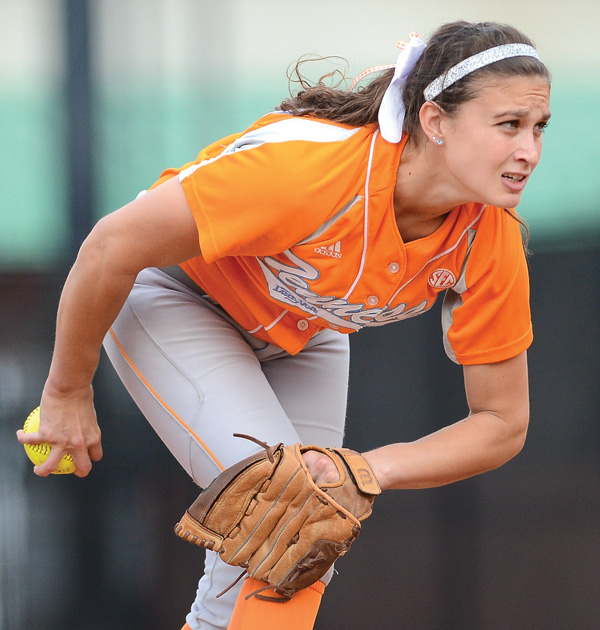 ---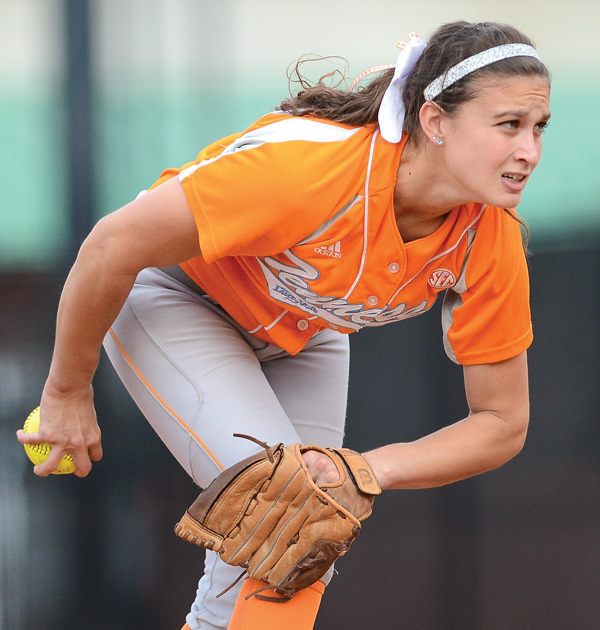 Photo
Erin Gabriel pitches during a game between the University of Tennessee and Milligan College on Oct. 14, 2012, at Lee Stadium in Knoxville. Gabriel is a Poland High graduate.
By Tom Williams
University of Tennessee freshman Erin Gabriel has been named to the 2013 USA Softball Junior Women's National Team.
It's the third time the 2012 Poland High graduate will represent USA in softball.
In 2011, when she was a senior at Poland, Gabriel was the only high school player on the JWNT that won gold in the ISF Junior Women's World Championship in Cape Town, South Africa.
"At least this time, there won't be any 28-hour flights," Gabriel, 19, said Monday with a laugh.
From July 1-7, the JWNT will be competing in Brampton, Ontario, Canada for the International Softball Federation X Junior Women's World Championship.
"I'm looking forward to my family being able to be there," Gabriel said.
In June 2011, about a week after Poland won the Division II state title, Gabriel was picked for the JWNT after attending a tryout in California.
This time, she says, the selection process was "more nerve-wracking" since it was based on college performances.
This spring, Gabriel has a 4-1 record with an earned-run average of 2.73. The Volunteers are 29-6 overall and 6-3 in the Southeastern Conference.
Tennessee is ranked fifth in the nation in the latest ESPN college softball poll, trailing only Oklahoma, Arizona State, Florida and California.
"It will be an amazing feeling to play with the USA on my chest again," said Gabriel, who said she's looking forward to being one of the leaders based on her international experience. "I've already been through one and this time I won't be one of the youngest. It should be really cool."
Her first international experience was in August 2010 in Bogota, Colombia, where she competed for the gold-winning USA in the Pan American Championship (18-under).
A year later, in South Africa, Gabriel was the winning pitcher in USA's victory over the host country, She struck out three in a five-inning shutout.
Gabriel remains undecided on her major, but is leaning toward nutrition.
"It's a very rigorous major to take when mixing in softball, but I look forward to the challenge," Gabriel said.
She added the college workload has been a big adjustment from high school. "So far, I've been able to keep up," she said.
In high school, the Bulldogs finished state runners-up her sophomore year, state champion her junior year and state semifinalists last spring. She was The Vindicator's Female Athlete of the Year in 2010, 2011 and 2012 and the Ohio Gatorade Player of the year in 2010 and 2011.
One of the toughest lessons Gabriel has learned as a Volunteer came on March 3 when she was pitching against Charleston Southern in North Charleston, S.C.
She started the game and recorded one strikeout and two earned runs allowed over one third of an inning. Then a hard liner back to the circle glanced off her right hand, forcing her out of the game.
"I made the mistake of using my hand instead of the glove," Gabriel said, adding that no bones were broken but her hand swelled up. "It didn't affect my pitching but I've learned my lesson."
The daughter of George and Lori Gabriel, she said pitching against her teammates last fall was her "welcome to the show" moment.
"Having to face my [Tennessee] teammates day in and day out was a challenge, but it's helped me ease into being able to face college hitters," Gabriel said.
She's looking forward to the NCAA Tournament in mid-May.
"I've been dreaming about playing in college since I was little," Gabriel said. "I remember watching games on TV with my dad and picturing myself in those games, wanting to be a role model.
"My [college] experience has been incredible."