Area's softball elite eye return to state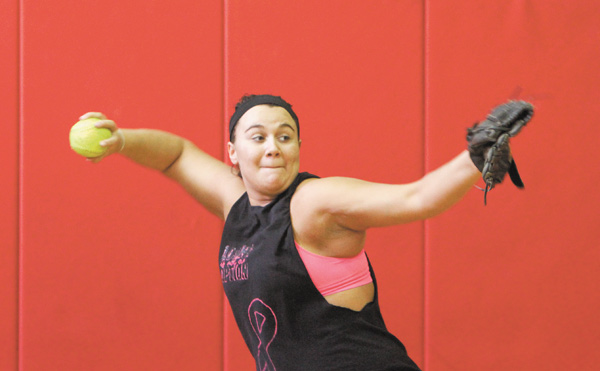 ---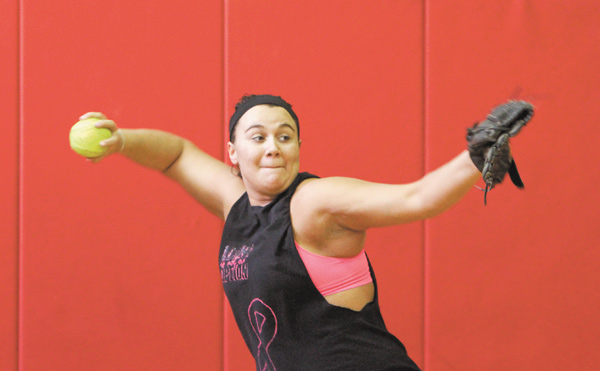 Photo
Mathews' Jacki Rhine makes a throw during practice Monday. Mustangs coach Jim Nicula returns most of the players from last season's Division IV state runner-up team. The Mustangs were one of three area teams to qualify for the state tournament in 2012.
— softball —
By Tom Williams
As snow swirled Monday morning, the Mahoning Valley's three high school softball programs who earned trips to state last spring were practicing indoors, gearing up for what they hope will be another successful season.
Champion (24-3) is coming off its second straight Division III state championship, defeating Felicity-Franklin 6-4 in the title game on June 2.
In its third straight trip to state, Poland (27-3) lost to undefeated Keystone in the Division II state semifinals.
And in its first trip to Akron, Mathews (26-5) finished Division IV state runner-up, losing 6-2 to Convoy Crestview in the championship game.
The Mustangs return all of their starters and can't wait to get on the field.
"We're just champing at the bit," head coach Jim Nicula said Monday, hoping that the field at Boardman High will be dry by Thursday's opener. "We're doing everything we can in the confines of our gym and our hitting cages to get ready.
"But nothing replaces being on the field."
The Mustangs' seniors are catcher Hollie Shreves, third baseman Jacki Rhine, center fielder Tabby Granelly and shortstop Jessica Marscio.
"I've been looking forward [to this week] ever since we lost the state championship game," Shreves said. "We annoy all of our classmates because we talk about softball all of the time."
Third baseman Rhine said the Mustangs "have high expectations, but we can't look too far ahead. It's like a ladder — one step at a time."
Shreves calls sophomore ace Cheyenne Eggens (24-4) "our driving force. I don't think anyone can match her drive and her competitiveness.
"Cheyenne is in the gym four days a week, taking pitching lessons another day and I am with her all the time," Shreves said. "She has just grown so much, not only in her pitching but in her mental aspect of the game."
Poland and Champion are turning to younger arms to replace aces who won state crowns.
Erin Gabriel, a University of Tennesssee freshman, was a four-year starter who pitched the Bulldogs to three state appearances, including a state title in 2011. Lindsay Swipas also was a four-year ace for the Golden Flashes — she's now a student at Ohio State University.
"It's going to be a little different," said Champion head coach Cheryl Weaver who begins her 14th season. "With Lindsay, we were almost guaranteed 10-12 strikeouts a game and maybe one to three hits [against]."
Weaver says senior Kayla Hunt, who pitched a few times last season, will share the mound with sophomore Haylee Gardiner.
Poland head coach Matt Campbell, who takes over for Reid Lamport, says senior Kasie Serich and sophomore Aleah Hughes will replace Gabriel and Jenna Modic (Miami of Ohio).
"Both have great stuff, but like a lot of other players on the team, they are untested," Campbell said of Serich and Hughes. "Neither was on varsity last year, but they are going to get that opportunity."
The other change in Poland is Campbell taking over for Lamport, who compiled a 530-115 mark in 23 seasons.
"Reid was an outstanding coach, I've learned a lot from him," Campbell said. "My goal is to continue the tradition, continue the success that the Poland softball program has."
The Bulldogs' other seniors are catcher Meredith Testa, center fielder Marissa Trevis, outfielder Anna Barnhart, outfielder Meredith Tesone and second baseman Jess Rutana.
Trevis, one of three returning starters, said it's different without Lamport.
"He has big shoes to fill," said Trevis of Campbell, "and I think he's doing a really good job. He's working us hard every day."
Testa, another returning starter, noted that three other starters graduated.
"We're basically rebuilding, but nobody's down," Testa said. "Everyone's confident in themselves — we feel we are capable of doing well."
Over the years, Poland and Champion have gone out of their way to find quality opponents. Mathews has joined them.
"I'd say we have the toughest schedule in Ohio for a D-IV team," Nicula said. "We're playing in the [Ashland] Wendy's Classic, going to Keystone [Invitational]."
The Mustangs will play Poland on May 13, Walsh Jesuit at Keystone and maybe defending Division I champion North Canton Hoover in Ashland.
"To be the best, you have to play the best," Shreves said. "We look forward to it as a challenge and a benchmark to see where we are."