Speedy Caver learning, surging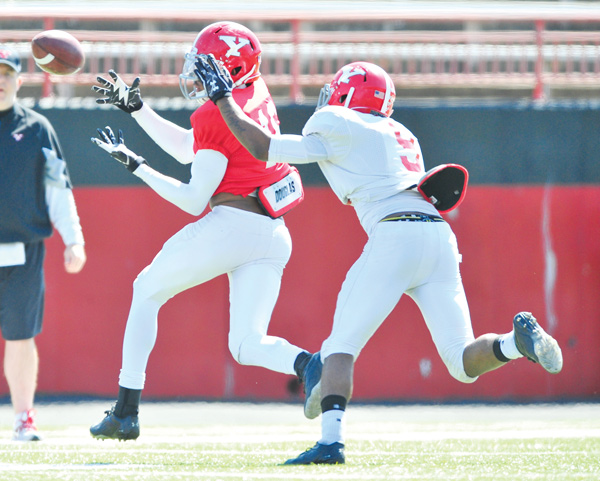 ---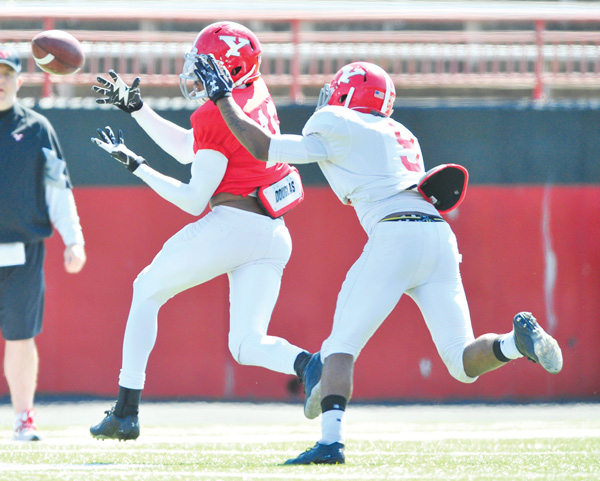 Photo
Youngstown State receiver Marcel Caver (16) catches a pass while avoiding defensive back Julius Childs (9) during Saturday's practice at Stambaugh Stadium.
By Joe Scalzo
YOUNGSTOWN
Youngstown State receiver Marcel Caver had his first interview on Saturday — and that's ever, even high school — but the first word will go to his position coach, Kurt Beathard, who spent two years with YSU coach Eric Wolford at Illinois.
"He said, 'Wolf, this guy could have played for us at Illinois,' " Wolford said.
Caver, a 6-foot-3, 185-pound speedster out of Bedford, left Cleveland Central Catholic with Division I talent and junior college grades. Bowling Green showed some interest but YSU former linebackers coach Frank Buffano convinced Caver to walk on to the Penguins.
"I came and took a visit and it felt like home, you know what I'm saying?" Caver said. "I knew I could be comfortable around here. There's not too many distractions. I could still do my work and focus on football.
"They gave me a better opportunity here."
Caver walked on last summer and struggled to keep up on an offense that was returning 11 starters and was in the third year of Shane Montgomery's system. He still ended up playing in every game.
"It was hard, learning the plays," Caver said. "I was expected to know the plays a lot faster than I really did. This [spring], I've got a chance to learn the plays and get in the game more."
He caught eight passes for 104 yards in 2012 and has been an even bigger threat this spring, repeatedly beating YSU's defensive backs deep in practice.
"Marcel and [WR] Andrew Williams, those are two top-notch speed guys," said YSU starting cornerback, Dale Peterman. "They have long strides and they're good getting in and out of their cuts.
"Every time I go against them, I've got to be on my Ps and Qs because you never know. They could give me a little wiggle."
While Caver's speed is impressive — Wolford said he's one of the two or three fastest receivers on the team, but Caver doesn't think anyone is faster — his size isn't. He looks a lot better running down the sidelines than over the middle.
"He can put on another 15-20 pounds," Wolford said.
Caver said he eats four meals a day and tries to get in the weight room twice a day, but it might take another year before his body develops at the same rate as his skill.
"When he fills out," Wolford said, "I think he has a chance to be a special player."