Maple-syrup making way of life for Salem family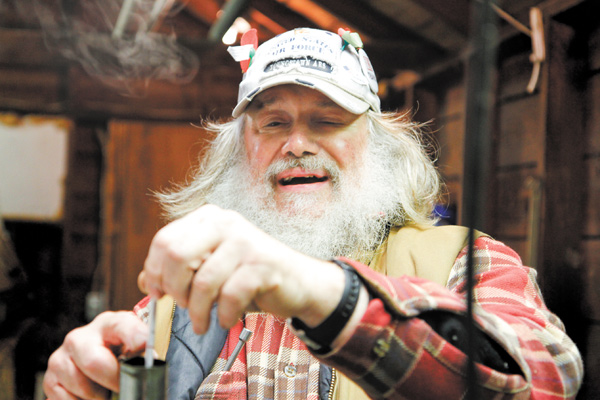 ---
Misty Maple Sugar House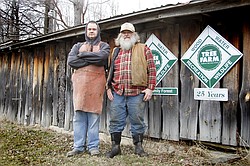 Gallery
STORY & PHOTOS
By MADELYN P. HASTINGS
SALEM
From a mile away, you can smell the sweet scent of a fresh batch of maple syrup being brewed at Misty Maple Sugar House.
Barely visible through the thick fog coming off the pond on the hidden farm at 10644 Middletown Road is a log cabin with smoke billowing out of a wood-burning sap evaporator.
Owners Dave and Nancy Hively are sure their young grandsons will carry on the family business of syrup making.
Dave holds 1-year-old Brock in his arms while 2-year-old John follows closely behind, both in matching coats and hats. The sixth generation of the Hively family maple-syrup makers help their grandfather inspect the spouts carefully installed in trees.
"We never planned for this. We just put a couple buckets in our front lawn right after getting married," Nancy explains.
They bought their first commercial-sized evaporator in 1984 and started with about 600 taps. They now have acres of trees lined with pipes connected to thousands of taps to slowly pull the sap for production.
Dave and his son, Todd, are constantly busy in the sugar house loading the evaporator with wood while the boys keep them company. This was a good year for syrup making because of the cold making production time last longer, they said.
They host tours showcasing their expansive operation. All winter long, tapping the trees keeps the family busy, and during the off-season, Misty Maple Syrup is sold straight out of their home. Anyone wanting to pick up a bottle of pure Ohio maple syrup can stop at their farm.
More like this from vindy.com