Girard adds new fire truck to department
---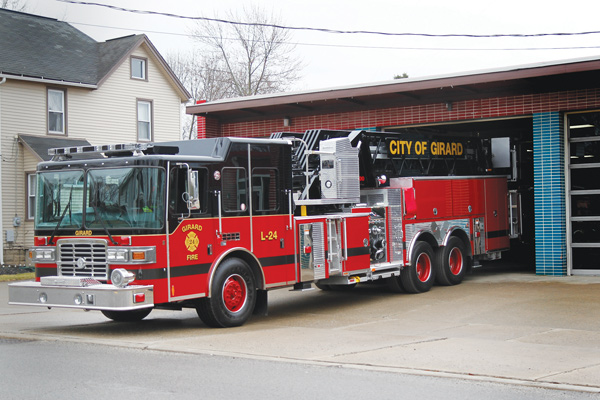 Photo
The Girard Fire Department just bought a new $900,000 fire engine with the help of a FEMA grant.
By Danny Restivo
Girard
The fire department has added a new $900,000 tool to its life-saving arsenal.
A new 100-foot red and black fire engine is now parked at the department's garage on Liberty Street.
A Federal Emergency Management Agency grant allowed the department to purchase the new rig.
"This thing is completely state-of-the-art," said Chief Kenneth Bornemiss. "This is nothing like the truck we had before."
The chief said the last large fire engine the department bought was in 1977. He said the old truck was sold last month.
Bornemiss said the new engine will accompany two smaller engines the department houses.
The fire department received the truck Friday after officials from Ferrara Fire Apparatus Inc. in Holden, La., made the 16-hour drive to Northeast Ohio.
The new truck also comes with various accessories, including shovels, axes, hoses, computerized water pumps and hand-held thermal imaging devices that can detect heat behind doors and walls.
"The technology of this thing is incredible compared to what we had before," said Luke Grunder, who has been with the department for four years.
Grunder said the department's firefighters helped design certain elements of the new truck, including compartment locations, ladder positions and water-pump gauges.
Though Grunder said the new details will make life easier, he said his favorite part of the new vehicle is its turning radius. Even though the engine is still large by most standards, he said it can turn on a dime compared with the old engine.
"Everything this engine has is for the better," said Grunder.
Jerry Lambert, city services director, said the grant requirements meant the city had to provide roughly $40,000 for the truck.
He said the money came from the city's general fund.
Bornemiss said FEMA officials will come to the department next month to inspect the vehicle to make sure it meets all National Fire Protection Association standards, another grant requirement.
Bornemiss said these are standards his firefighters are glad to meet.
"This whole vehicle will add a new level of safety for us and the people we're trying to help," said Bornemiss. "It's going to be a real asset to our department."