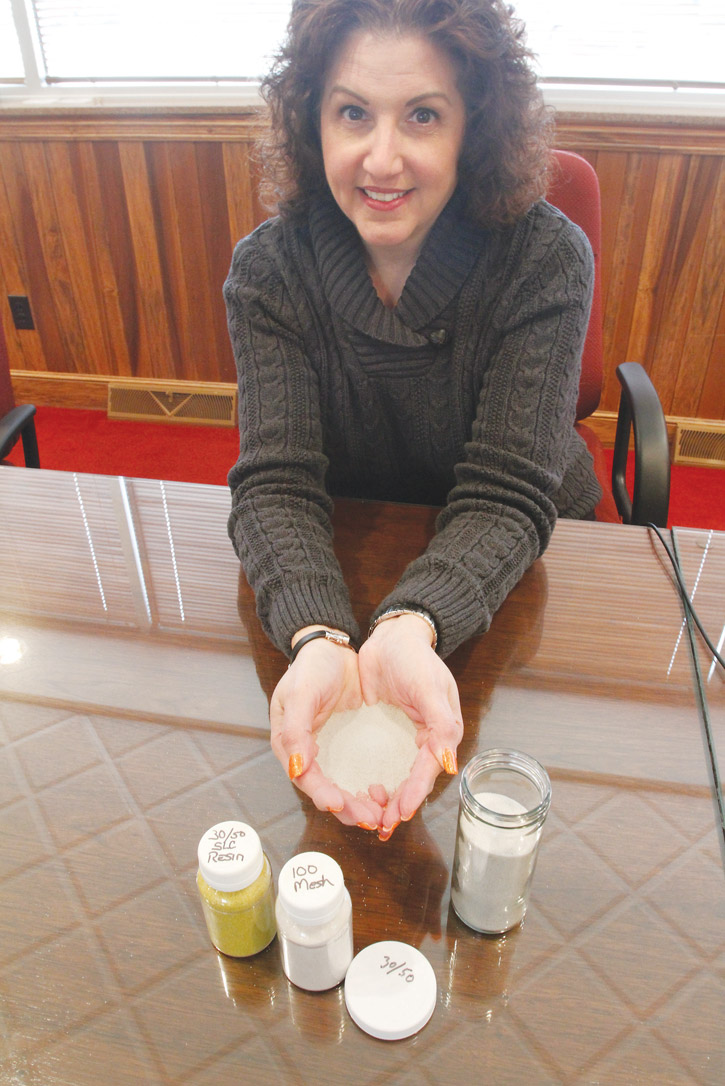 ---
COLUMBIANA
Lee Stoneburner spends most of his days on a sprawling 100-acre expanse of what was once mostly cornfields.
He dedicates his attention to shuffling rail cars on 7,300 feet of track that wind their way around an industrial park that cropped up around what long ago was a refractory mill at the edge of the cornfields. Kiln bricks were manufactured there for the insides of blast furnaces.
Stoneburner, the general manager of Buckeye Transfer Realty, was just a landlord six months ago, overseeing BTR-owned property occupied by trucking companies, an aluminum extruder and one other business.
Today, Stoneburner, along with his 22 employees, and BTR are a fundamental link in the oil and gas supply chain. The industrial park, on Esterly Drive, off West Park Avenue in Columbiana, is close to state Route 11 and near the epicenter of the Utica Shale play.
About two years ago, Stoneburner, his father, Jerry, and Lisa R. Wallace, chief operating officer for the company, began to envision their 2,000 feet of railroad track and industrial property as a distribution center for the oil and gas industry. They decided to start with sand.
"We were already involved in the transportation industry. We started hauling sand at least one year ago," Stoneburner recalled.
"It clicked; we saw how much transportation was actually required. It's not insignificant. If you're looking for something of volume, sand is the high-volume part of the industry."
Volume is what Stoneburner deals in these days.
BTR's property is now home to the region's newest transloading facility. Rail cars, brought in via Norfolk Southern's main lines that hold 100 tons of sand each, arrive at the facility three times a week.
Oil and gas service companies, preparing to frack wells throughout Northeast and Southeast Ohio, send trucks regularly to pick up that sand and transport it to well sites.
BTR welcomed its first sand-loaded rail cars Jan. 4. Business has grown ever since. The facility is designed to move between 20,000 and 25,000 tons of sand each month.
Before the company moved into the transloading business, it was just Stoneburner, Wallace, Jerry and Pepper, Jerry's dog, who appears to be a small terrier mix charged with watching the doors and following his owner faithfully.
In the past three weeks, BTR has hired 22 employees, with plans to bring on more.
"I think this is the best thing to hit this area in a long, long time," Stoneburner said when asked what the oil and gas supply chain means for his business.
"It takes a lot of hard work to get involved with these companies," Wallace said. "You have to be very responsive, but the benefits are here for everyone, I think, for years to come."
Sand is an integral part of hydraulic fracturing. A typical well can require 2,500 tons of sand during the fracking phase. Sand, water and chemicals are pumped into shale rock to create fissures through which oil and gas float into pipe that takes it to the surface.
Sand, or proppant as it's referred to, helps hold those fissures open so they do not close under pressure of the earth.
BTR's sand is shipped from Illinois and Wisconsin in three forms; large mesh, fine mesh and resin coated — each with a different crush strength and shape, for use depending on the rock formation and geology of different wells.
Mobile transloading machines, with long tails, pull up to the rail cars and unlock hoppers. The sand falls from the railcar to a conveyor on the tail, which then brings it upward for unloading into a truck. The machines can load 250 tons per hour, or provide a typical load in about 10 minutes.
For now, Stoneburner and BTR are focused on learning the ins and outs of the business, but they eventually hope to use their acreage by expanding the facility or using it for other applications, such as a condensate gathering facility or a pipeyard for infrastructure being built throughout the area.
"This has truly been a labor of love," Stoneburner said. "There's a lot of money invested in this property, and we'd like to continue doing more with it."