Dinner honors the Zanders for their golden year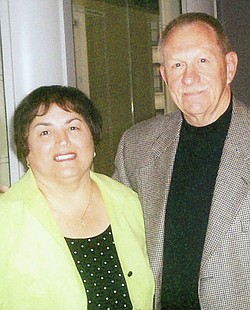 Photo
Mr. and Mrs. Charles F. Zander
NILES
A dinner Aug. 18 at the Chophouse Restaurant in Warren honored Mr. and Mrs. Charles F. Zander of Niles for the celebration of their 50th wedding anniversary.
The former Janet DiCe- sare and Mr. Zander were married Aug. 18, 1962, at St. Rose Church in Girard.
Mrs. Zander worked as a beautician in the early 1960s and was a stay-at-home mother.
Mr. Zander has worked for Sparkle Supermarkets since 1956 as a store manager, supervisor and store owner. He was president of the Sparkle organization. He continues to work with his children at Poland Giant Eagle.
The couple are members of St. Stephen Church in Niles.
Their children are Brenda Zander of Niles, Charles Jr. and Patty Zander of Vienna and Michael Zander of Brookfield.
The family circle includes five grandchildren.