O'Connor's backup Romeo is ready for goalie spotlight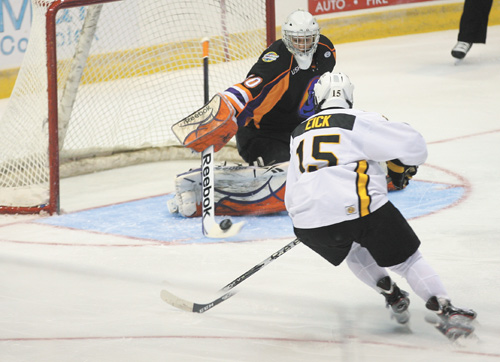 ---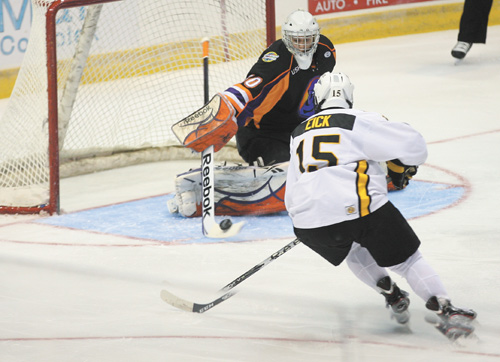 Photo
After a season as backup goalie to the Youngstown Phantoms' Matt O'Connor, Sean Romeo (30) is ready to step out into the spotlight as a starter. Romeo will be in goal today when the Phantoms open their fourth USHL season against Omaha at the Covelli Centre.
By Tom Williams
YOUNGSTOWN
Last season, goaltender Matt O'Connor set several Youngstown Phantoms records, including most wins (28). In his second season in the USHL, the 6-foot-5, 193-pound O'Connor was the hockey team's Most Valuable Player.
This fall, O'Connor is a freshman with Boston University and he's left some pretty big skates to fill.
"Literally and figuratively," Phantoms head coach Anthony Noreen agreed. "Matt was the backbone of our team last year, there's no doubt about that."
Hoping to fill the void is Sean Romeo, O'Connor's backup last season, who played in 15 games and posted a 4-5-2 record.
Noreen said Romeo will be in goal tonight when the Phantoms open their fourth USHL season against the Omaha Lancers at the Covelli Centre. The other goalies on the roster are newcomers Jake Moore from Arcade, N.Y., and Patrick Spano of Montreal. Last season, Moore posted a 13-5-4 record with the Buffalo Jr. Sabres while Spano played for Westminster Prep. Spano has made a college commitment to Yale.
Two seasons ago, Romeo joined the Phantoms in February and served as their emergency backup goalie when O'Connor reinjured a knee after the league had frozen rosters. Romeo could practice, but only watch games from the bench while Jordan Tibbett finished the season.
Then-head coach Curtis Carr rewarded Romeo — a native of Cary, N.C. — with about seven minutes of playing time in the season finale. The USHL summary for that game says Romeo played less than one minute.
"I don't know what happened [on the scoresheet but I played] definitely longer than they gave me credit," Romeo recalled. "It was good to get in finally. It showed that the coaches cared about me. It had been a long year."
Noreen believes the Phantoms' investment in Romeo is about to pay off. The second-year coach said the pressure of being number one "is something goaltenders either run with or they for kind of look for someone else to take on.
"Matt did a great job of that last year. He also did a great job of teaching Sean how to do the same thing."
Romeo says O'Connor "taught me about being a leader on and off the ice. He showed me what it's like to be a real starting goaltender, to carry a team."
Growing up in North Carolina, Romeo learned how to skate on roller blades. He was 8 when he tried ice hockey.
"It wasn't too tough for me to learn," said Romeo of the conversion.
Living near Raleigh, Romeo cheered for the NHL's Carolina Hurricanes. He was 6 when he saw his first NHL game and remembers Hurricanes goalie Arturs Irbe shutting out the Buffalo Sabres, 1-0.
"That's when I started to like goaltenders," Romeo said.
At first, not many expected him to take his hockey skills to the top junior league in the country. Even his family wasn't sure.
Romeo said his mother allowed him to try out for the East Coast Eagles.
"She didn't think I'd make it and that would be the end of [hockey]," Romeo said. "But I made it and we had a playoff run that year."
Noreen called Romeo a testament to the Phantoms' goal to develop strong men on and off the ice.
"He came in as a scrawny kid, he looked to be about 12 years old, he almost looked lost amongst our guys," Noreen said. "A year-and-a-half later, he's grown up, he's filled out and he's turned into a leader in our room.
"His play has spoken for itself so far — he's been excellent in preseason games and throughout our training camp."
Romeo said last year's Phantoms set the bar high by qualifying for the playoffs and winning a series.
"We have a lot of pressure on ourselves, but I think we can handle it," Romeo said. "[There are] a lot of expectations but I don't think we as a team will be happy selling ourselves short."