NAMII dubs Mahoning Valley a hub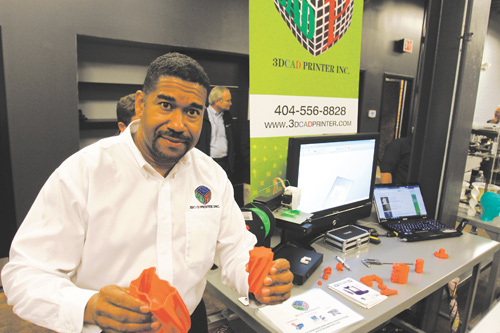 ---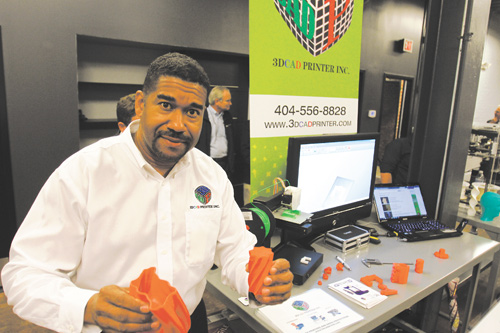 Photo
Ron Robinson, president and chief executive of 3DCAD Printer Inc., shows off some of the products made using the additive manufacturing process. Robinson joined several other private companies and universities Thursday at the opening of the National Additive Manufacturing Innovation Institute at 236 W. Boardman St.
By JAMISON COCKLIN
jcocklin@vindy.com
YOUNGSTOWN
Six weeks ago, Youngstown was revealed as the future site of an advanced manufacturing hub intended to propel American industry to new heights.
Within that time, 800 collaborations, 130 letters of support and $70 million were contributed to the initiative.
A consortium of more than 60 private companies, nonprofit organizations and universities came together to form the National Additive Manufacturing Innovation Institute ­— dedicated to further developing what's known as additive manufacturing.
Though it was a vision long in the making for some, the future came fast and now the consortium has a home. About 250 people gathered Thursday for a formal ribbon-cutting and official opening of the manufacturing hub at 236 W. Boardman St. downtown.
Six weeks ago, the facility was a former furniture warehouse — the annex at the Youngstown Business Incubator. Now, the building is home to high-tech equipment, entrusted for additive manufacturing research and development from consortium partners such as ExOne in Pittsburgh, Youngstown State University and Robert Morris University.
"At its most fundamental level the goal of this program is to restore American manufacturing to a predominant position in the world economy, to rebuild our industrial base and create quality jobs for our future," said Barbara Ewing, chief operating officer at the business incubator.
Deemed the future of manufacturing by some, additive manufacturing uses advanced software to create three-dimensional images from which machines create unique programs to print a product layer-by-layer, using metals, plastics or resins.
The technology uses less time, energy, material and labor to manufacture products, and it has vast application potential across multiple industries, including biomedical and aerospace to name a few.
Thursday's event served as a rebuttal for naysayers who disbelieved the hub would ever come to fruition.
"It seems today that everybody believes the worst of government, that they're unable to even imagine that something good or positive can come out of it," Ewing said. "This project is all the evidence you will ever need to see how false that assumption is."
The consortium's efforts will be funded by $30 million from the budget authority of several government agencies including the U.S. Department of Defense and the U.S. Department of Energy. Sixty percent of those funds will be disbursed by year's end, with the rest coming in March 2013 and March 2014.
Consortium partners ponied up an additional $40 million, bringing the total investment to $70 million. After 2014, the NAMII is expected to be self-sufficient.
Renovations at the manufacturing hub, which took place over only 36 days primarily on the first of three floors, were funded separately by multiple entities.
In all, more than $800,000 will be spent renovating the facility with funds coming from an earmark secured by U.S. Rep. Tim Ryan of Niles, D-17th, through the U.S. Department of Housing and Urban Development, the city of Youngstown, the Youngstown Foundation and grant funds from YSU through the Ohio Department of Development.
Ralph Resnick, president of the Latrobe, Pa.-based National Center for Defense Manufacturing and Machining, who also will serve as the hub's interim director, said the facility will serve as the "U.S. epicenter" of technology development, work-force training, outreach and the transition of additive manufacturing to a greater commercial role.
It's a mission he hopes will position the TechBelt region of Ohio, Pennsylvania and West Virginia as a sort of Silicon Valley for the technology, symbolic of pioneering gains in additive manufacturing.
Thursday's ribbon-cutting showcased the various additive manufacturing processes and opened the first floor of the hub for tours. In October, NAMII partners will come together at the facility for a meeting on how best to organize the structure of the consortium and its efforts going forward.
The hub will serve as a pilot institute for a broader plan to open 15 other similar facilities across the country to form a National Network of Manufacturing Innovation.
Youngstown itself was selected as the pilot location not only because of its geographic location, but because of its manufacturing history and the area's diverse work force and outreach at places such as YSU that has developed over the years.
Though it remains unclear, an early estimate of jobs to be created across the TechBelt as a result of the hub's central location in Youngstown stands at 7,200, according to NCDMM. But more important, officials say, is the research and development that will take place at the facility and its ability to both develop a stronger work force and attract larger companies and manufacturers with a vested interest in the technology.
"This project shows that this area isn't average anymore," Ryan said. "We are leading the country out of the recession, we're leading the country in manufacturing and we're one of the top regions for growth in the country right now because of things like this."