Former North Lima school becomes hub for shopping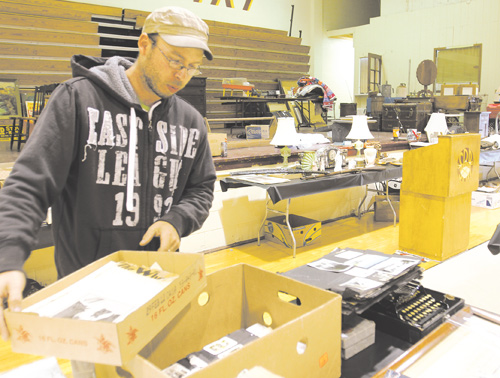 ---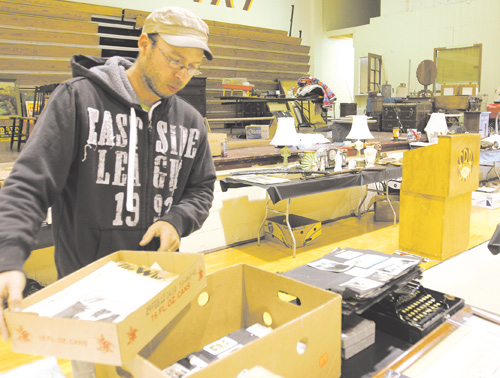 Photo
Auctioneer Stephen Solic prepares for the weekly auction at the North Lima Business Complex, inside the former South Range High School at 11836 South Ave. The complex will host weekly auctions every Tuesday at 5 p.m. beginning next Tuesday.
NORTH LIMA
In one year, The North Lima Business Complex on South Avenue has more than doubled from about a dozen businesses to 26.
Products and services offered there include antiques, gem stones, leather work, pet grooming, exercise equipment and more — all in one place.
All of the business owners are local, said Michelle Au, who manages the complex at 11836 South Ave.
Au has planned a Business and Shopping Expo at the complex from 9 a.m. to 5 p.m. Saturday.
"It's a chance for people to look at the shops and making it known that they are welcome here," Au said.
Activities, such as a petting zoo, are planned, and an auction will benefit the Big Reach Center of Hope, a charity founded by Greenford Christian Church.
Those who attend the expo are encouraged to bring dry food and toys to donate to Big Reach to use for its holiday outreach efforts, Au said.
The expo will showcase businesses, such as Barbie Page's Needful Things at Century Barns, a shop that will offer primitive antiques dating to the 1800s and early 1900s. A volunteer will distribute information about Needful Things during the expo, but the shop won't open officially until Oct. 6.
"We have Century Barn Shops in New Springfield, and we are expanding to here. We can't open the barn in the winter, and we wanted a place for our store to be open during that season," said Page, whose business partner is Orville Burch.
Needful Things also will operate on consignment, Page added.
Jeremy McCreight of Lisbon co-owns Lucullan, a shop in the complex that sells homemade natural bath and body products and offers airbrushing tanning and airbrushed, temporary tattoos.
"We tried other places like flea markets, but people weren't buying the soaps and bath products there. ...We were tired of working for other people and we talked to [Au] and it seemed like a great opportunity," said McCreight, who added that the rent at the complex was cheaper than other spaces he considered.
That's something that Ed Schaefer, one of the building's owners, is glad to hear, and it's what he hoped would happen when he and John Munroe purchased the former South Range school buildings at auction and converted them to business incubators.
"I had no idea it would get this big," said Schaefer, crediting Au and her co-manager, Sue Barone, for their work at the North Lima complex.
The North Lima Business Complex is open from about 10 a.m. to 7 p.m. daily, though hours for individual businesses can vary. Rooms are still available for businesses and those interested should call Au at 330-716-3067.
The complex also will host weekly auctions every Tuesday at 5 p.m. beginning next Tuesday.