Hundreds gather for signing of Mancini bio, 'The Good Son'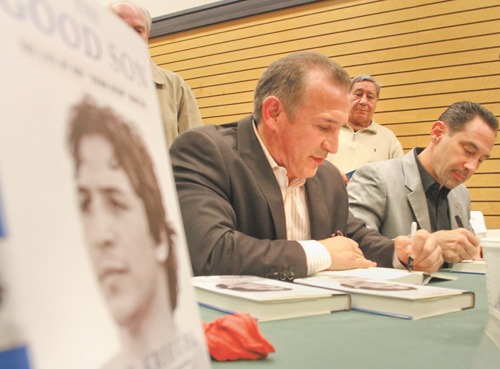 ---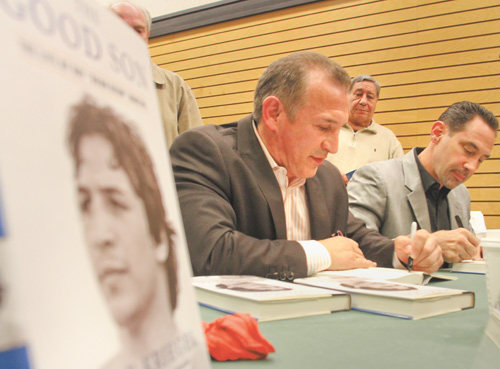 Photo
Former lightweight boxing champion and Youngstown native Ray "Boom Boom" Mancini signs copies of his biography, "The Good Son," along with author Mark Kriegel during a book signing Thursday at Barnes & Noble Booksellers in Boardman. The bookstore gave out more than 500 wristbands to autograph seekers, who waited in line for hours to meet the boxer.
By Joe Scalzo
BOARDMAN
At 7:45 p.m. on Thursday night — 30 minutes after Ray "Boom Boom" Mancini arrived at Barnes & Noble and more than 11 hours after the first fan showed up to get a wristband for that night's book signing — author Mark Kriegel looked over the crowd of hundreds and shook his head.
"I've never seen anything like this," said Kriegel, who joined Mancini to sign copies of the Youngstown boxer's biography, "The Good Son." "I have no ... I mean, last night in Buffalo was extraordinary, but ..."
He stopped. Kriegel has already written bestsellers about Joe Namath and "Pistol" Pete Maravich — two athletes whose prime lasted longer and whose fame burned brighter than Mancini's — but he's never been a part of something like Thursday.
Barnes & Noble gave out more than 500 wristbands, brought in workers from other regional stores and limited the signings to the book and Mancini's 2010 documentary, "Youngstown: Still Standing."
Still, by 7:45, dozens had already left, realizing they were hours from reaching Mancini.
Denise Brindle, Barnes & Noble's community relations manager, said the store had sold close to 500 books and compared the turnout to what Jim Tressel drew for one of his books.
"It's been a great day for me," she said, laughing.
When asked if Mancini told him it would be like this, Kriegel said, "We had an idea, but ..."
At the front of the line was MaryBeth Tkach, who hails from Ocean City, Md. She was there to get an autographed copy for her brother, Rick, who went to high school with Mancini. (It's a surprise Christmas gift, so don't mention it to Rick.) Right next to her was her friend, Kathleen Shannon, who held up a 35-year-old copy of Mooney's newspaper that featured an article on Mancini, then a sophomore.
"Look," said Shannon, also a classmate of Mancini's. "It says, 'I have a long way to go but I would like to become a world champion.'
"He was in my Spanish class but he was barely in it because he was out boxing all the time."
Just behind them stood 12-year-old John Herren of Columbus, a national USA Boxing champion in his 125-pound weight class whose mother went to high school with one of Mancini's friends. (He asked Mancini how he was able to keep going after Duk-Koo Kim's death in the ring.) A few feet away stood Warren's Randy Stephens, who trained with Mancini and was there when Mancini got the call that his older brother, Lenny, had been killed.
All had been impacted by Mancini. And that was just a sampling.
Kriegel's book quotes several people saying that Mancini has to take "the long way around the bar," but it's that instinct that drew a crowd of hundreds to a bookstore on a Thursday night to celebrate a fighter who moved away 32 years ago and whose prime came two years later.
Tonight at Powers Auditorium, an invite-only crowd of 600 will watch the accompanying documentary.
He may be "The Good Son," but in Youngstown, he's the favorite son.
"When I read the book, I noticed that everyone kept saying that I take the long way around the bar," Mancini said. "I said, 'I do that because I'm home.' I know everybody. I work the room.
"And to be honest, nobody works it better."
UPDATE: At 2:18 a.m., Kriegel sent this tweet: "Not surprised Boom Boom Mancini is finally finished signing in Y-town. But the people waiting since the afternoon, wow. Respect."
Then, at 3 a.m., Mancini sent sent this text: "One of the greatest nights of my life! Thank you Youngstown for all you've done for me!"