Tower reflects changes at St. E's Boardman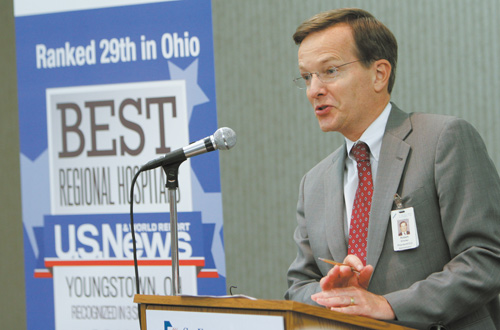 Photo
Robert Shroder, president and chief executive officer of Humility of Mary Health Partners, talks about the $103.3 million project that will start Monday at St. Elizabeth Boardman Health Center. The new seven-floor inpatient tower will house maternity services and the neonatal intensive-care unit now at St. Elizabeth Health Center in Youngstown.
BOARDMAN
Site work is slated to begin Monday for a second seven-floor inpatient tower at St. Elizabeth Boardman Health Center, a $103.7 million project.
Construction of a second inpatient tower reflects the changing demographics of the area's population, and is part of a 10-year strategic plan to remain viable, said Robert Shroder, president and chief executive officer of Humility of Mary Health Partners, at the construction kickoff ceremony Wednesday.
The tower, to be located immediately west of the hospital's main entrance, will be built in phases with the fifth, sixth and seventh floors to open in 2015, 2016 and 2017, respectively, which will be a mix of medical surgical and telemetry floors.
Phase One, to be completed in the first half of 2014, will house maternity services and the neonatal intensive-care unit, operated by Akron Children's Hospital, which will be moved from St. Elizabeth Health Center on Belmont Avenue in Youngstown, said Genie Aubel, president of St. Elizabeth Boardman.
Sharon Hrina, vice president of Akron Children's Mahoning Valley Enterprises, said Akron Children's will spend $7 million on the St. Elizabeth Boardman NICU.
St. Elizabeth Youngstown will continue to focus on treating the sickest and most severely injured patients.
Once St. Elizabeth Boardman begins admitting patients, more private inpatient rooms will be created in Youngstown as well, Shroder added.
The Boardman inpatient tower project also includes the renovation and upgrading of radiology and expansion of radiology services in the emergency department.
"Today we celebrate much more than bricks and mortar. We celebrate the foundation that has created quality patient care and the staff members who take ownership of this facility and treat those who come through its doors as welcome guests," said Daryl S. Cameron, chairman of the HMHP Board of Directors.
By building on the physical and medical foundations established here, HMHP is strengthened as a whole and kept on the path of providing health care to all in the community, Cameron said.
Despite facing a $6.5 million cut in Medicare and Medicaid reimbursements next year and with charity care and bad debts up $16 million over last year, Shroder said HMHP has no intention of "digging in and waiting out the storm."
Instead, he said, "We see the needs in our community, and we are ready to do what is necessary to meet them."
Over the next 10 years, HMHP will develop centers of excellence in cardiovascular, primary care, oncology, neuro-sciences, orthopedics and women's services, Shroder said.
The St. Elizabeth Boardman projects represents more than half of the $170 million HMHP plans to spend over the next three years to expand and upgrade its hospitals in Youngstown, Boardman and Warren and make all patient rooms private at all its facilities, he said.
The project was designed by Rodney Lamberson of Strollo Architects in Youngstown and Bill Miller of Moody Nolan Architects of Columbus.
Shook Construction of Dayton and KBJ of Oakwood Village in Cleveland were awarded the construction contracts.