Phantoms defensemen return with valuable experience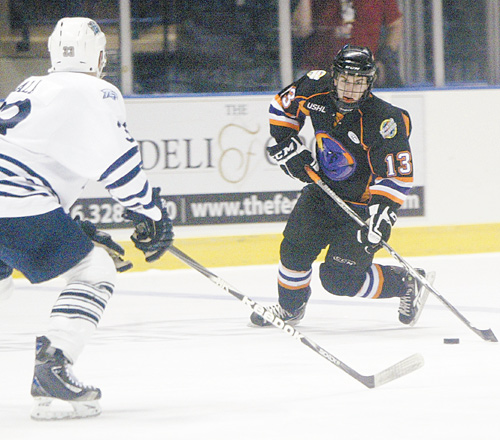 Photo
Ryan Lowney (13) is one of three healthy defensemen returning to the Youngstown Phantoms for the 2012-13 season. The Phantoms open their season Friday at home.
By Tom Williams
YOUNGSTOWN
Despite a rash of injuries to their blue line down the stretch, the Youngstown Phantoms enjoyed their most successful season in the USHL.
In their third season that ended in April, the Phantoms (32-21-7, 71 points) finished fourth in the Eastern Conference, earning their first playoff berth.
The Phantoms swept the Cedar Rapids RoughRiders in a best-of-three series, then fell, 3-1, to the Green Bay Gamblers in their first best-of-five series.
The final two months were quite a ride. Injuries to Michael Gunn and Kevin Liss limited head coach Anthony Noreen to five healthy defenseman on most nights. Chris Bradley and Jordan Young have moved on to college but Ryan Lowney, Dan Renouf and Eric Sweetman are back for their second USHL season as Phantoms.
Noreen said he believes no other USHL team has a trio of backliners who played so much.
"From a minutes played standpoint and experience, no doubt," Noreen said of Lowney, Renouf and Sweetman. "Those three rookie defensemen became veterans in a hurry."
At 6-feet-2, 205 pounds, Renauf is the biggest of the three.
"It was definitely stressful with the lineup that we had, but it was good for our experience," Renauf said. "It's really going to help us out now that we have that experience under our belt."
Sweetman, who is 6-0 and weighs 180 pounds, said they learned a lot but it wasn't easy.
"At the time, it was really difficult because a lot of us were first-year players," Sweetman said. "But we got a lot of ice time."
Lowney said he benefited from the challenge.
"When it came down to [playing] five when a couple of guys were out with sickness, it really helped me get into the game and get focused," the 5-8, 160-pound Lowney said. "More playing time helped me [understand] the gameplan and get better as the year went on."
Sweetman said Lowney really stepped up during that stretch.
"Lowney didn't play much in the beginning [of the season] but he got a lot of ice time and really proved himself," Sweetman said. "Right now, he's as experienced [as anyone]."
"As vets because of what happened, we're going to be more prepared," Sweetman said of the upcoming season. "I think we have a good group, a strong, young group to helps us go to the place that we need to be."
The Phantoms will need another strong start to return to the playoffs. This season, the USHL has reduced the playoff field from 12 to eight teams.
"It's nothing that is going to change our approach," Noreen said. "The only thing it might mean is make the games even more intense than they already are, which I think would be a good thing for the league."
Noreen also has back six forwards and goaltender Sean Romeo, the backup to Matt O'Connor last season.
"I doubt if there is any group of returning defenseman who played more minutes than those three, especially down the stretch and in the playoffs," Noreen said. "Obviously, they bring a lot of experience and they've been great leaders for our incoming defensemen, with what the expectations are here."
Sweetman and Lowney said the best part of summer break was spending time with their families.
"Sometimes you just want to get away from your parents, but about halfway through the season, you miss them," said Sweetman, who is from Woodbine, Md.
Lowney, who is from Redford, Mich., agreed.
"Just getting to be with them was real nice," Lowney said.