Peterson-Getsy wedding planned in Boardman Park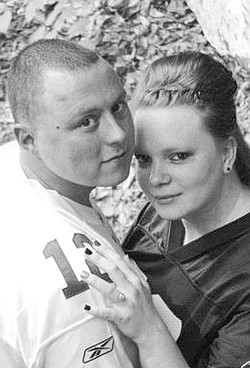 Photo
Bobby Getsy and Ashley Peterson
AUSTINTOWN
Ashley Peterson and Bobby Getsy, both of Youngstown, will be married during an autumn ceremony at 1 p.m. Oct. 7 in St. James Meeting House in Boardman Park.
Their engagment is being announced by the bride-elect's mother, Chris Golec of Austintown. The bride-to-be also is a daughter of Michael Golec Sr. of Austintown and George Peterson of Youngstown.
Invitations will be issued for a reception at St. Christine Church hall in Youngstown.
Miss Peterson is a material handler at Star Supply in Youngstown.
The future groom is a material handler at Graybar Inc. in Youngstown.