---
Thursday, September 27, 2012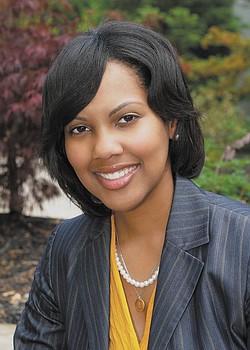 Photo
YOUNGSTOWN
The Junior League of Youngstown elected Kera A. Thompson as president for the 2012-13 league year.
Thompson lives in Boardman and is a native of Baton Rouge, La. She is business manager of perioperative services for Humility of Mary Health Partners at St. Joseph Health Center in Warren. Sponsored by Suzanne Fleming, Thompson was a member of the league's provisional class in the fall of 2008.
On the board are Leah Wilson of Columbiana, president-elect; Tara Mady of Poland, recording secretary; Lisa Metzinger of Boardman, treasurer; Fran Curd and Fleming, both of Youngstown, sustainer representatives; Stephanie Lambert of Canfield, marketing and recruitment; Beth Drennen of Youngstown, provisional; Kim Urig of Canfield, research and development; Laura Rumble of Poland, training and education; Starr McClure of Youngstown, in-league communications; Kristina Ross of Boardman, fund development; Susan Stewart of Boardman, nominating; Annette Camacci of Canfield and Susan Berny of Boardman, co-chairwomen of Pink Ribbon Tea-sustainer; Mercia M. Stevens of Poland, active liaison representative; Joan Gallitto of Canfield, mother- daughter brunch sustainer chairwoman; Heather Elder of Boardman, active liaison representative; Kelly Kiraly of Poland, Done In a Day projects; and Doris Bullock of Austintown, Hope House board member.
Thompson said the league will focus on school readiness with a concentration on nutrition and childhood obesity.
The Junior League is a chapter of the Association of Junior Leagues International.
For information call the league office at 330-743-3200 or email info@jlyoungstown.org.