Incomplete Ohio report cards show few Valley changes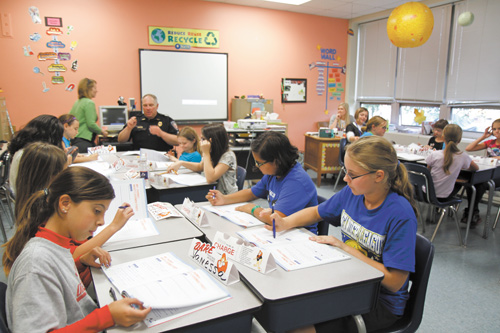 Photo
Fifth-graders at Frank Ohl Intermediate School in Austintown work with Jeff Toth, township police officer, during their Drug Abuse Resistance Education class. A portion of the state's school report cards was released Wednesday, and the district met 26 of 26 performance indicators. Fifth-grade test scores have been the most difficult to raise, but they met state specifications this year.
2011-2012 Mahoning Valley Report Card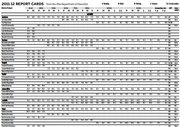 Document
2011-12 Mahoning Valley Report Card
ABOUT THE PARTIAL DATA
The Ohio Department of Education released partial data from the 2011-12 school report cards. The information includes test score passage rates by grade, graduation rate and whether districts met Adequate Yearly Progress, the element that shows student achievement based on subgroups such as those based on racial and economic factors. Also included is the value-added measure that shows whether students met the expected one year of growth. When the remainder of the report card data, including rating, performance index score, number of performance indicators met and attendance rates, will be released hasn't been determined. The delay is because of an ongoing audit by state Auditor Dave Yost's office of attendance records.
By DENISE DICK
and ELISE franco
news@vindy.com
YOUNGSTOWN
Youngstown City Schools remain in academic watch, narrowly missing a continuous improvement designation.
Across the Mahoning Valley, other school districts touted report card success, though some administrators complain this year's fractured process is confusing.
The Ohio Department of Education released partial 2011-12 report card data Wednesday, but the data do not include the overall school or district rating or other crucial other information.
Even without the official release, some districts, including Youngstown, have a good idea of what their respective designation will be.
Youngstown Superintendent Connie Hathorn said based on the data released, the district's designation would be the same as last year — academic watch. Although that's not what he hoped for, there were improvements, including higher scores on the third-grade reading and math tests and fifth-grade reading.
"We have five elementary schools that are in continuous improvement or effective," Hathorn said.
William Holmes McGuffey and Williamson elementary schools are effective, and the Chaney Visual and Performing Arts and Science, Technology, Engineering and Mathematics school also may earn that designation.
Williamson was in academic watch last year, and McGuffey was in continuous improvement.
Youngstown Early College remains the only city school district school to be designated excellent.
Three schools — East High School, University Project Learning Center and Wilson Middle School — stayed in academic emergency, Hathorn said.
Harding Elementary slipped from continuous improvement to academic watch. Hathorn said the improvements show that changes are working, such as doubled class time for literacy and math and the professional development required.
With the guidance of the Academic Distress Commission, the district is working from one improvement plan rather than a collection of plans. Through professional development, school personnel have the skills and necessary training.
"We're going to fix this," Hathorn said. "I believe what we've got going on is going to work."
Girard Superintendent David Cappuzello said his district met 26 of 26 indicators this year.
"We really refocused the staff, and they really delved into all the data and attended workshops to do whatever it took to reach these students," Cappuzello said.
He said the staff is still waiting to find out the district's final designation.
"The staff was so excited to get the results. They're more anxious than frustrated," he said. "I know the state is trying to put out what they can. They're trying to give us something without giving us everything. I understand what they're trying to do. I appreciate the information we were given."
The state typically releases report cards in late August, but that date's been pushed back because of an ongoing audit of school attendance records by state Auditor Dave Yost's office. The audit was prompted by discoveries of some districts that were improperly reporting attendance information to improve report card scores. Attendance is one of the indicators figured into a district's rating.
Besides the overall rating and attendance rate, the partial report cards, which the state says are preliminary, don't include performance index scores or number of performance indicators met.
The state board of education voted earlier this month to release the partial data.
"Obviously, looking at test results shows the overall success of school districts," said John Charlton, ODE spokesman.
AYP, or adequate yearly progress, and the value-added measure also give the public an idea of how districts are faring.
AYP shows student achievement in several subgroups including those based on racial and economic factors. Value-added shows whether third- through eighth-grade students met the expected one year of growth in reading and math.
But some Mahoning Valley school district superintendents are frustrated with how to communicate the information contained in the report cards to the general public.
"I'm very happy to see our district met AYP and value-added," said Frank Lazzeri, Boardman superintendent. "There are some areas of concern that you look at and say, 'We can improve here, we can improve here,' but we have to look at the data a bit more carefully to judge in terms of trends. It's not as crystal clear as the reports we've seen in the past. Some of the data isn't included."
Gov. John Kasich had announced plans to change the report card rating system this year from one with designations of excellent with distinction, excellent, effective, continuous improvement, academic watch or academic emergency to a letter grading system.
"He thought that was confusing so he wanted to go with an A, B, C, D system, and now we've got nothing at all," Lazzeri said. "Is it confusing? You better believe it."
The governor with the A, B, C system "was trying to do the right thing," he said. "They had to come up with something. I guess this was the best they could do at this time."
It does help the schools to have data in hand because schools are so data-driven, Lazzeri said.
Boardman saw an excellent rating on the 2010-11 report card, the same designation it's achieved for the last several years.
South Range, another district that consistently rates "excellent," met AYP but fell below value-added growth, according to the preliminary report card information. The district was below value-added last year as well.
South Range saw high test scores, though, Superintendent Dennis Dunham points out.
"We had very high performance index although that has not been released yet," he said. "Our scores have always been high. We passed all 26 indicators."
Without more specific information from the state about the areas that contributed to the district's not meeting the value-added measure, it's difficult for school officials to target the areas that need improvement, Dunham said.
"Is it reading? Is it math? Both? What grade levels?" he wonders.
Michael L. Sawyers, interim state superintendent of public instruction, said ODE is committed to releasing data when available so people can be informed about school progress.
"Schools and districts have had access to preliminary student achievement data on standardized assessments throughout the summer," Sawyers said in a news release. "It is time to share this preliminary information with others, with the understanding that the data is not yet final."
When the full report cards will be released hasn't been determined. Charlton said the state board of education is expected to discuss that at its meeting next month.
Even though the information released Wednesday doesn't assign a rating, Warren City Schools "has every reason to celebrate that they have moved out of academic watch and into continuous improvement," a news release from the district says. "One of the major accomplishments of the students and staff in the Warren City Schools was moving the district's value-added designation from below to above."
The Jefferson kindergarten through eighth-grade school moved from academic watch to continuous improvement, and the Lincoln K-8 building moved from continuous improvement to effective.
"All of these assumptions are based upon the Ohio Department of Education report card rules and calculations for the determination of report card rankings," the release says.
Austintown Superintendent Vince Colaluca said the district is on the right track.
"This report card, when everything finally comes out, will show we're going in the right direction," he said. "It will show we've hit 26 of 26 indicators."
Colaluca said for the first time, the fifth-grade math score met state requirements.
"That's been a score that across the state districts have struggled with," he said. "We hit that benchmark."
Colaluca said he thinks the Ohio Department of Education is doing the right thing by taking its time and looking into issues with certain districts' attendance figures.
"They're not rushing into it. This is high stakes. This is what the community, the media and the state judges us on now," he said. "I do wish they would release the whole report cards for districts not being investigated. They're punishing everyone for a few districts' mistakes."
Though the data isn't complete, Liberty Superintendent Stan Watson says it's still useful.
"We've been very anxious in this district for this," he said. "It helps us narrow and focus the issue and helps us focus our resources where they need to be."
For Liberty, that focus will be on reading particularly in the elementary grades. The district posted a 68.8 percent passage on the third-grade reading portion of the Ohio Achievement Assessment. Last year, it was 68.2 percent.
"It's an area we've struggled with," Watson said.
The district has to focus even more attention on reading in light of the third-grade reading guarantee, a measure that requires students to be reading on grade level by third grade or face possible retention.
More like this from vindy.com