Fans dig 49ers' layover in Valley between games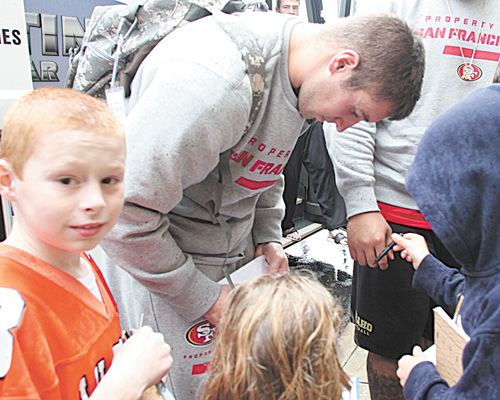 ---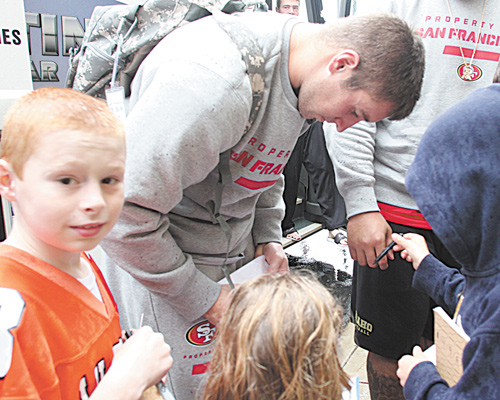 Photo
Autograph seeker Kyle DeBucci, left, of New Middletown waits his turn for an autograph from 49ers tight end Garrett Celek outside the Boardman Holiday Inn on Wednesday.
RELATED: Harding's Mario, mates get acquainted
BOARDMAN
Kyle DeBucci's eyes widened and a big smile crept across his face as one of the goals of his young life came true.
He got Randy Moss' autograph.
The San Francisco 49ers wide receiver, along with a host of his teammates, signed items for Kyle, his brother Nick, sister Brooke and friend Chris Shoemaker on Wednesday evening outside the Holiday Inn in Boardman. The team is practicing at Stambaugh Stadium this week before visiting the New York Jets on Sunday.
"It makes their day," said Tiffany DeBucci, Kyle, Nick and Brooke's mother.
The New Middletown residents stayed outside in the rain with umbrellas and light jackets hoping for a glimpse of some of their favorite star athletes.
"Randy Moss has always been one of my favorites," Kyle said.
Sitting across the street from the hotel was Alex Reese of Youngstown's South Side.
The 23-year old waited in the back of his minivan for most of the day. Reese already had gotten the signatures of LaMichael James, Mike Iupati, NaVorro Bowman, Andy Lee, Darcel McBath and Parys Haralson on a football. Reese was hoping to catch a few more players, including quarterback Alex Smith, to sign his replica jersey.
He's going to give all the memorabilia to his three kids.
"I'm going to pass it on to them," Reese said. "I'm a big Niners fan, I watch all their games and I play Madden so I know all the names, faces and stats.
"But my kids will appreciate this when they're my age."
Reese isn't like most autograph hounds. He doesn't directly approach them like many crazed fans do.
"There was about 15 or 20 guys here that just get the stuff signed to sell it," he said. "They crash the players and bother them with so many helmets and stuff to sign. It's especially bad when they're eating."
Being in the area for a second time, Smith has his feel on what the Boardman area offers.
"I have not noticed much difference, to be honest," he said. "Longhorn's across the street. There's Chic-fil-A."
Players and personnel also have walked across South Avenue to Happy Hour Bar and Grille.
"Some of the staff and trainers were here watching the Monday night game with the Packers and Seahawks," owner Steve Thomas said. "They kept their comments about the controversial call at the end to themselves."
Players, on the other hand, have been vocal at the business.
"NaVorro Bowman and Mike Iupati were here the other night and they were very interactive," Thomas said. "They ate wings and were shooting pool and having a good time.
"Iupati walked in wearing an old Washington Bullets jersey and people were just amazed — he's so big."
Thomas said the crowd was larger than normal for a Tuesday and he expects Happy Hour to be a frequent stop before the team leaves town for Sunday's game against the New York Jets.
"It's pretty wild to have these guys here," he said.