Youngstown commission looks to hire parks consultant
---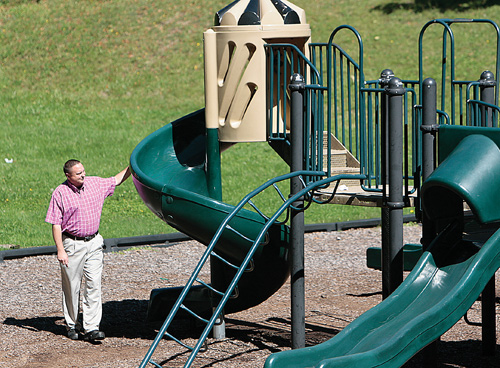 Photo
The Youngstown Park and Recreation Commission is planning a comprehensive study on the long-term use of its properties. Robert Burke, the city's park and recreation director, looks at the playground equipment at Crandall Park on the North Side.
By David Skolnick | skolnick@vindy.com
YOUNGSTOWN
The study also would determine which properties are no longer needed and would allow the commission to have a better understanding of the potential for the locations, said Robert Burke, park and recreation director, and Anthony Spano, commission chairman.
The commission and Burke are in the preliminary stage of the process.
The city wants to obtain grant money from various foundations to hire a specialist for the work, Burke said.
The cost isn't firm, but it likely would be in the range of $60,000 to $70,000, and definitely no more than $100,000.
The consultant would be hired sometime next year with a comprehensive study finished in a period of seven to eight months, Burke said.
The consultant would have town-hall meetings with citizens to hear the needs of the community as well as other recreational agencies in the city and surrounding communities, Burke said.
"It's important to know where we want to be five, 10, 20 years from now," Burke said. "I don't know if there has ever been a comprehensive park plan. We'll be able to use it to determine what can be added to parks and, in some cases, decide if we need a particular park."
Thirty-three of the department's 45 properties are used for park and recreational purposes.
Other properties include a cemetery; the Borts pool on the West Side, closed since 2010; various islands along Fifth Avenue; and some undeveloped land on Lincoln Park Drive and Rush, Euclid and Sheridan boulevards.
Also, a number of the department's parks aren't used for much, Burke and Spano said.
"We have a park system for 150,000 to 160,000 people and no plan," Spano said. "We haven't downsized as the city's population declined" to 66,982, according to the 2010 U.S. Census.
"We can have 30 OK parks or make 15 great parks," Spano said.
As for the rest of the properties, Spano said there are many options.
"We can sell, lease the land to other organizations that can put it to better use like urban farms and green space," he said. "Everything is on the table. We want the quality of life to improve, people to move back into the city and give kids a place to go. If all we are doing at some of the properties is cutting the grass, it's a waste of money."