Published: Wed, September 26, 2012 @ 12:00 a.m.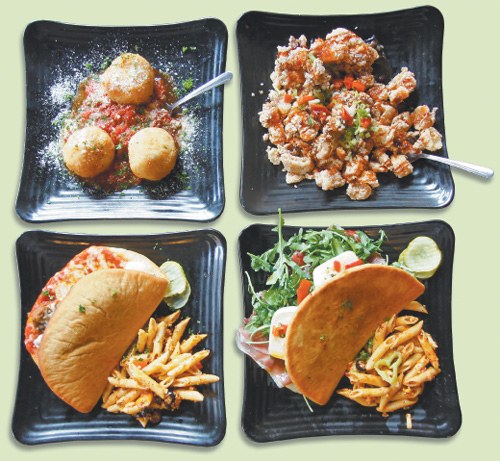 Photo
V2's signature dishes include (clockwise) Arancini diRiso, Crispy Calamari, Prosciutto DiParma and the Meatball Melt.
When You Go...
Where:
100 W. Federal Street, Youngstown, Ohio 44503
Open: Monday-Wednesday:11 a.m. to 9 p.m.; Thursday and Friday: 11 a.m. to 2:30 a.m. and Saturday: noon to 2:30 a.m.
Contact:
330-742-5595 or www.V2byVernon.com
Downtown restaurant is worth the trip
I shouldn't have signaled to eat lunch earlier today. That was the thought that ran through my stomach's brain somewhere between the third and eighth dish that was brought out for my sig dish feature at V2 downtown. My thoughts exactly my friendly organ, but don't confuse weakness for surrender.
I'm up for any challenge in the Valley from chefs who can't help but show off their skill and appreciation for big eaters. V2's executive chef, Brian Lowther, didn't waste any time getting a variety of dishes in front of me for this taste. In fact, he didn't bother to even think about a theme when he sent eight dishes out all at once. All he cared about is that I appreciated the flavor combinations and understood the process behind creating each one.
I took a look at all these dishes placed on the high top table and decided playing musical chairs would be most efficient to try each one. I'm sure the other patrons didn't mind as they looked curiously at me and what I'm sure appeared to be a food binge.
I identified three appetizers that were staring me in the face and I had to decide which I would get to first. Crispy Calamari ($9.50) was the closest and provided a unique take. Chef Lowther's technique on to season rather than hide in breading preserves the flavor of the calamari and adds layers of spices of chili heat and sweetness.
My second pick was the Arancini di Riso ($5) other-wise known as the "rice ball." Three baseball-sized risotto and mozzarella balls are breaded and fried up to order. It is accompanied with a san marzano sauce. A few bites of creamy risotto and you will notice that your stomach will also pull the emergency break. Risotto has a habit of filling you up fast so I suggest pacing yourself on these guys.
Last of the apps was the largest with the Formaggio & Salami ($16-$24). A meat tray of prosciutto, sopresatta, capicola, salami, aged cheeses, peppers and dipping sauces. The meats and cheese are all imported and the peppers made fresh daily. An ideal appetizer if you are with a group of friends enjoying a night out. It is plentiful and delicious all the same. I always enjoy meat trays because it gives me the chance to play Dr. Frankenstein by stacking, folding, and dipping all the parts of the trays and then letting my mouth decide if it works. With a tray this full of quality ingredients you are sure to always have a great pairing.
Next I attacked the sandwiches. The Prosciutto Di Parma ($8) had my favorite of the lunch meats, prosciutto, piled high yet compressed by a thick slice of fresh mozzarella cheese and covered with a blanket of fresh arugula. A few roasted red peppers folded in a stone toasted ciabatta pita made this sandwich one I will be going back for. The saltiness of the prosciutto and the earthiness of the other ingredients were pleasant on the taste buds.
I moved onto the second sandwich on the table with the Meatball Melt ($6.50). Three of Vernon's classic meatballs sat smothered in cheese in the same ciabatta pita as above. Although simple in theory, if you have ever eaten these meatballs you know two things: They are huge and packed with flavor. I honestly prefer these bundles of awesome in the meatball salad, which is my favorite salad in the Valley, but they aren't too bad in this presentation.
After the two sandwiches I still had three pizzas left on the table to try. As my stomach was trying to throw the white flag, I pushed onward and bit into each.
Out of the three I found that I enjoyed the Grecian ($8.50) the most. Pesto, tomato, red onions, feta and Parmesan cheese drizzled with balsamic. As you bite into this thin crust pie you have a hard time thinking at first. There is literally so much going that by the time your taste buds send all the messages to your brain you can't help but notice how big a role the warm balsamic plays. It is the bittersweet finish of the otherwise salty ingredients. This pizza is a must, along with basically everything else I ate.
I'm a strong supporter of the movement going on in downtown Youngstown. A city that is growing presents opportunity for new business and I'm glad to see restaurant owners are taking advantage of the increase in population in the city.
If you haven't been in the city recently take a trip down. You may be surprised at what options you have when it comes to food. Trust me, you will want to stop into V2 and experience a city restaurant with a great menu.
Check out our blog on www.vindy.com/news/valleyfood.