Mourners feel for Brendan Danes; lost parents in crash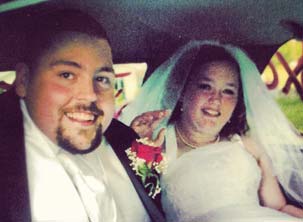 Photo
Jamie, left, and Emily Danes were killed Friday in a car accident in Newton Township. This photo shows them after their wedding.
By ED RUNYAN
runyan@vindy.com
NEWTON FALLS
There's an empty desk at The Cadle Co. on Center Street where Emily Danes worked for seven years.
Co-workers on Tuesday were in shock from the 29-year-old's sudden death in a car accident Friday night.
What strikes them most is the loss 8-year-old Brendan Danes has suffered because of the death of his mother and father.
Emily's husband, Jamie, 37, also died in the 10:30 p.m. crash on South Canal Street in Newton Township.
The couple lived in Paris Township, which is just over the Trumbull County line in Portage County.
"She was just a loving mother. She dedicated every minute of her nonworking hours to her family," said Denise Harkless, who worked side by side with Emily the past three years.
"She was very involved with her son and the youth, because she volunteered for everything. Every weekend, she had something going on," Harkless said.
"She looked beautiful Friday, dressed up and excited to go to dinner with her husband," Harkless said. "She was excited about going to a movie."
The couple was going out to celebrate their wedding anniversary, which was Monday.
"She was also going to pick up decorations for their son's birthday party, which was going to be Sunday," Harkless said.
The couple drove to Niles for dinner at O'Charley's Restaurant and a movie. They were headed home when their 2005 Chevrolet Impala was struck head-on by a vehicle driven by Paul J. Wodianka, 42, of Mahoning Avenue in Diamond, just east of Lake Milton.
The Ohio State Highway Patrol said the speed Wodianka was traveling appears to have contributed to the crash.
Wodianka's vehicle crossed the center lane into the path of the Danes' vehicle, the patrol said.
Wodianka, who has a lengthy driving record in various Mahoning County courts, including two drunken-driving convictions, was tested "to confirm if Mr. Wodianka was under the influence of alcohol and/or drugs of abuse," the patrol said.
Wodianka, who was taken from the scene by ambulance, remained in critical condition Tuesday in St. Elizabeth Health Center.
Melanie Patchin, who knew Emily well from having worked beside her several years ago, said Emily would have been "the first person to step up" to help a child left without parents, like her son is now.
The Cadle Co., which is a loan-collection company, is joining Jamie's employer, Rulli Brothers of Austintown, in contributing to a bank account established for Brendan. It's called the Brendan J. Danes Benefit Account. Contributions will be received at any Cortland Bank location.
"You couldn't ask for a better person, a better mother. I can't say enough about her because she's just one of those people that everybody likes, and she would never say anything bad about anyone," Harkless said.
"She's going to be very missed. Her son, I feel so bad. He loved his mother."
According to the Mahoning County courts, Wodianka has been charged in the area courts in Austintown, Canfield and Boardman 12 times since August 1996, when he was charged by Lake Milton police with operating a motor vehicle impaired.
His first drunken-driving conviction, also resulting from a Lake Milton arrest, was in July 2000, but he had another one resulting from a January 2004 arrest in Austintown.
An OVI charge was reduced to failing to maintain physical control in 2008 after Wodianka hit a guardrail on state Route 62 in Canfield. Police said his speech was slow and slurred after the accident.
He was charged with his third OVI offense in March 2011 after an Oct. 10, 2010, arrest on New Road in Austintown. A police officer observed Wodianka's red pickup truck crossing the solid yellow line several times and later found Wodianka to be in possession of several types of prescription medication.
He was convicted on a drug charge, but the OVI was dismissed.