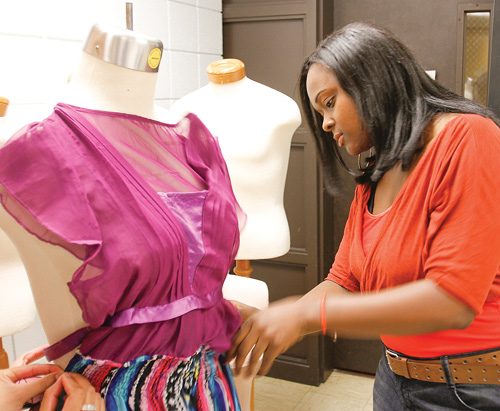 ---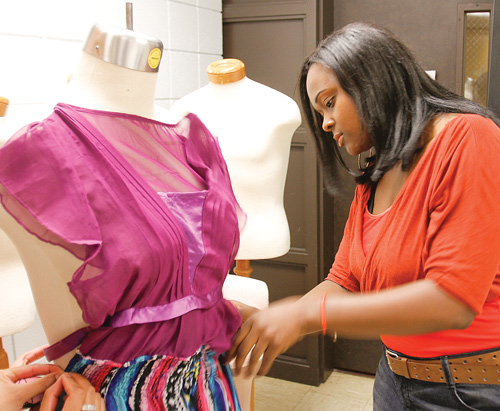 Photo
Youngstown State University sophomore Naomi Smith of Youngstown works on a dress in preparation for Youngstown Fashion Week. The event this weekend aims to draw attention to the area's fashion stores and designers.
By GUY D'ASTOLFO
youngstown
Sophia Colvin hopes to put Youngstown on the fashion map.
Toward that end, she has put together Youngstown Fashion Week, an event this weekend that will draw attention to the area's fashion stores and designers.
"Our objective is to give Youngstown a connection to the fashion industry," said Colvin, who is a 2004 graduate of the fashion merchandising program at Youngstown State University. Colvin also has started Sobee Styles, a company that creates fashion events.
YFW will include an exhibit of work by world-renowned New York-based fashion designer Nanette Lepore, a Youngstown native. Lepore's clothes will be auctioned off in a cash-only silent auction at the event, with proceeds benefiting YSU's SMARTS program.
"We are very proud of Nanette," said Colvin, "but if we could have something in Youngstown that stays here, that would be wonderful for our community. That's what we want for Youngstown Fashion Week. We intend for it to be annual occurrence. Our hope is that it grows and blossoms, and that we will get national designers to come here and show their work."
There will also be a runway show featuring the creations of three undergraduate students from the Youngstown area: Alex Marr, a fashion design major at Kent State University; and Brittany Griffith and Naomi Smith, both fashion merchandising students at YSU.
Shannon Stewart Ratliff, a finalist and all-star on television show "America's Next Top Model," will be a guest model in the runway show, which will begin at 6 p.m. Friday in the Chestnut Room of Kilcawley Center on the YSU campus.
YFW will continue Saturday at Eastwood Mall in Niles, where there will be a "live mannequin" showcase and an opportunity to meet Ratliff.
About 25 models in ready-to-wear fashions from mall retailers will pose in the windows of the stores from 11 a.m. to noon. Ratliff will give a free workshop at 1 p.m., during which she will share stories, give modeling advice and answer questions.
Anyone who has ever dreamed of walking the runway will get a chance Saturday morning when YFW opens the runway to the public. Registration to strut your stuff — just for fun — will begin at 10 a.m. at the mall, with the runway walk session beginning at 11:30 a.m.
"You can be a model for a day," said Colvin.
A Youngstown area native, Colvin has always been interested in fashion.
"When I was growing up, my mother was a seamstress and she was interested in fashion," she said. "I grew up watching her. I have been sketching and drawing my own designs since fourth grade."
Colvin enrolled in the fashion merchandising program at YSU, but she wasn't ready to leave the area after getting her degree. "That's why I want to bring fashion here — so people such as myself and the students here don't necessarily have to leave to get a feel for the fashion world," she said.
After graduating from YSU, Colvin put on a few small fashion shows at the school and elsewhere. She began planning an event for the entire area, which evolved into Youngstown Fashion Week.
"Fashion has always been centralized in a few major cities, but there is a trend for other metro areas to host their own fashion weeks with local talent," she explained.
Colvin partnered with YSU on the project, and that's where she was introduced to the students in her show.
While YSU's fashion merchandising program focuses on business, and not design, Colvin pointed out that the students from the school — Griffith and Smith — are designing their own clothes. Marr, the third student, has shown his work at Kent State fashion events and contacted Colvin when he heard about YFW.