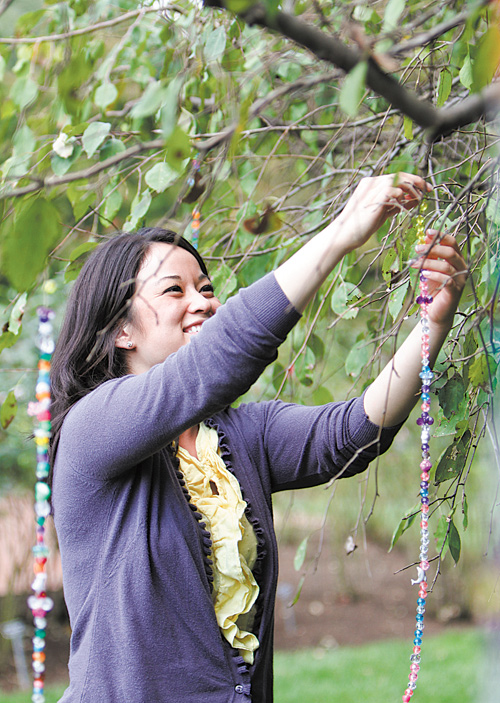 ---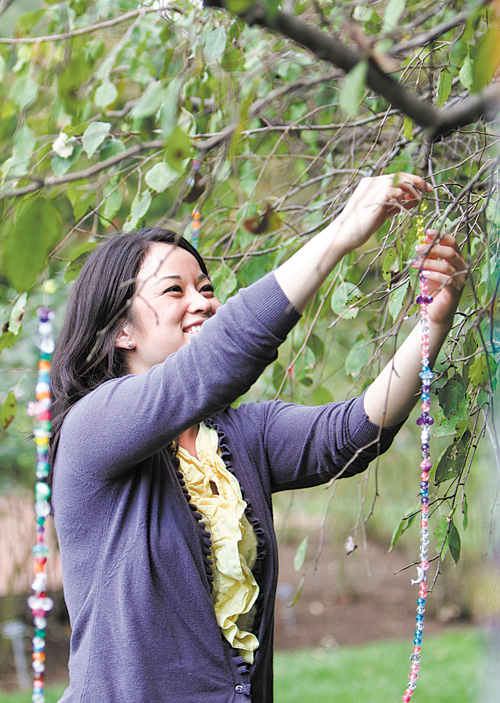 Photo
Jess Briganti of Youngstown hangs strands of beads from trees at Mill Creek MetroParks' Fellows Riverside Gardens.
By Elise Franco
Youngstown
A new project at Mill Creek MetroParks Fellows Riverside Gardens is an opportunity for residents to not just view the work but to be a part of it.
Beads for Trees, created by local nature-based artist Ed Hallahan, is an interactive project that relied on residents to create strings of beads that were hung on trees throughout the gardens.
Hallahan said the point of the project is to add creative beauty to that which already is naturally beautiful.
"The public space here has lent itself to my idea," he said. "The fun of it is that some people will try to control the colors and design on the strands. Others are a lot more random."
The project at Fellows is part of a larger program called "Living as Form." The program was brought to the Mahoning Valley by Youngstown State University's McDonough Museum and is a collabor-ation among a host of local venues, including the gardens.
Leslie Brothers, director of the McDonough Museum, said each venue that participates is unique in its own right.
[Fellows] is part of something that is larger, but it has its own intrinsic value," she said. "We spread it out in Youngstown and Warren to expose as many of the works to as many people as possible."
Keith Kaiser, MetroParks horticulture director, said the project is about connecting people in a community with art.
"This has done a great job of that because they're able to see they can connect with the gardens instead of just walking through," he said. "We like to have things that change. It is nice to have that extra bit of color and that whole interaction within the park."
Averi Jefferson, 19, of Youngstown, said she frequents the gardens and noticed the table set up with beads while visiting with a friend last week.
"We noticed the setup, so we stopped to make some," she said.
Jefferson said the trees are eye-catching, and she likes the way the long, colorful strands stand out against the natural-looking trees.
"They all look beautiful, and it really draws attention to the beauty of nature," she said.
For information about "Beads for Trees," contact Fellows Riverside Gardens at 330-740-7116, or for information about other vendors involved in "Living as Form" contact the McDonough Museum at 330-941-1400.