Hagan wants hearings on oil, gas lease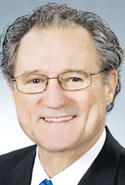 Photo
YOUNGSTOWN
State Rep. Robert F. Hagan wants city council to have public hearings on a proposal to lease city-owned land for oil and gas drilling before the legislative body votes on it.
Councilman Mike Ray, D-4th, chairman of the public utilities committee, said council plans to discuss the matter as a committee or as the full council at either a public meeting or hearing.
A decision is expected shortly with the meeting or hearing to be take place later this week, Ray said.
Council decided last Wednesday to postpone a vote on leasing land for drilling.
Some council members wanted more information before voting on the legislation, proposed by Mayor Charles Sammarone.
About 70 people attended last week's council meeting in opposition to the legislation.
Council could vote on the proposal as early as its next meeting Oct. 3.
Sammarone wants to use the money from leasing city-owned land for drilling for demolition and neighborhood-improvement projects. That money is desperately needed, Sammarone said.
Hagan, of Youngs-town, D-60th, said Monday, "While we all share in the excitement over the potential to bring jobs back to Youngstown with this expanding industry, there still remains legitimate environmental concerns related to fracking and the use of class II brine injection wells. As I said before, surely, the safety and health of our constituents takes precedence over the city's search for additional revenue."
Fracking is the process in which water, chemicals and sand are blasted into rocks thousands of feet below the ground to unlock natural gas and oil.
It has come under fire because of its potential environmental concerns.
Five of seven council members say they support Sammarone's proposal. Ray and Councilman Paul Drennen, D-5th, say they haven't made a decision yet and want to obtain more information.