Steelers stunned in Oakland
---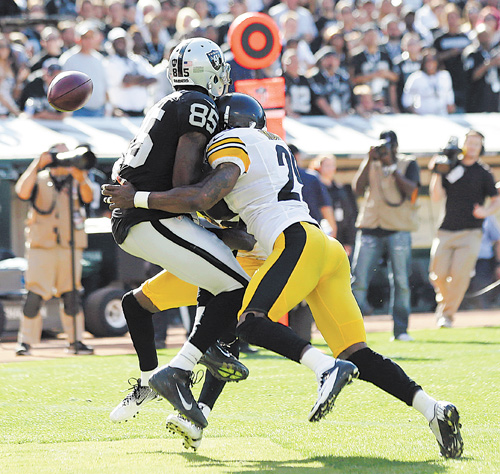 Photo
Oakland Raiders wide receiver Darrius Heyward-Bey is hit in the end zone by Pittsburgh Steelers free safety Ryan Mundy and knocked unconscious in the fourth quarter of Sunday's NFL game in Oakland, Calif. Despite a helmet-to-helmet hit, no penalty was called, and Heyward-Bey was taken to the hospital with a concussion and neck injury. A field goal by Raider kicker Sebastian Janikowski in the final seconds gave Oakland the 34-31 win.
Associated Press
OAKLAND, CALIF.
Steelers quarterback Ben Roethlisberger said Sunday's loss to the Oakland Raiders was the fault of the whole team.
Safety Ryan Clark said the collapse was his fault for "not making sure everybody's where they need to be and understanding the urgency of the moment."
Defensive end Brett Keisel said to "blame this loss on me" because "I messed up some things that resulted in touchdowns."
Wide receiver Antonio Brown referred to his fourth-quarter fumble as something that "shouldn't happen."
Heading into the bye week, the Steelers have plenty of blame to go around.
The Raiders scored the final 13 points after wide receiver Darrius Heyward-Bey was knocked out and hospitalized by a scary hit, sending the Steelers to a 34-31 loss when Sebastian Janikowski kicked a 43-yard field goal as time expired.
"That was a poor performance by us," Steelers coach Mike Tomlin said. "We have to chew on this one for a while. It's not going to go down easy, as it should not go down easy. But it won't define us. We'll continue to search for areas of improvement, which are many."
Early in the fourth quarter, Heyward-Bey was knocked unconscious by a helmet-to-helmet hit in the end zone by Steelers safety Ryan Mundy that was not called a penalty by the replacement officials. Heyward-Bey was taken to the hospital with a neck injury.
Carson Palmer then threw his third touchdown pass for Oakland (1-2) and Janikowski kicked two field goals to beat the Steelers (1-2) and give coach Dennis Allen his first win.
The Raiders took over with the game tied at their 25 with 1:42 remaining. Palmer got the drive going with a 24-yard pass to Brandon Myers on third-and-10 and then hit Derek Hagan on a 17-yard pass down to the Pittsburgh 26 with 27 seconds left.
Oakland ran down the clock to set up Janikowski's winning kick that sent the crowd into delirium less than an hour after silence overtook the stadium when Heyward-Bey was injured.
"It's tough," said Mundy, sitting in the far corner of the Steelers' locker room. "He has a job just like I have a job. Anytime that he's not able to perform his job because of injury, that's tough as a player. We don't play like that. We don't try to injury people or anything like that. We understand this is people's livelihood. We take that serious."
Mundy's helmet hit Heyward-Bey in the facemask on an incomplete pass in the end zone. Heyward-Bey's neck jerked violently and his head also crashed into the ground. Players from both teams kneeled in prayer as Heyward-Bey was attended to for about 10 minutes. He raised his right hand while being taken off the field on a cart to go to the hospital with a neck injury.
Four plays later, Palmer eluded pressure and found Denarius Moore on a 6-yard touchdown pass that brought Oakland within 31-28 with 12:13 remaining.
Raiders cornerback Pat Lee then forced a fumble downfield by Brown that Philip Wheeler recovered at the Oakland 36. Palmer drove the Raiders down the field and tied the game on a 32-yard field goal by Janikowski with 6:30 to play.
"Their defense made the stops when they needed to, and we didn't," Clark said. "It wasn't from a lack of trying. Maybe it was trying too hard. I know myself I was just, gotta be everywhere, gotta make a play. I take blame it even got to that point, because we kept giving up scores."