YSU snaps 11-year skid against UNI Panthers
YSU vs UNI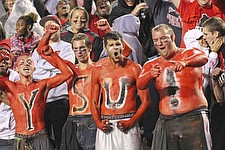 Gallery
READ | Puskas on Wolford style
By JOE SCALZO
scalzo@vindy.com
YOUNGSTOWN
A dozen years of frustration came down to one play on Saturday night.
The Youngstown State football team was clinging to a 42-35 lead by the tips of its fingernails, while the fans were gnawing them off.
With five seconds left and Northern Iowa on the Youngstown State 11 yard line, the Panthers put the game in the hands of their spectacular freshman quarterback, Sawyer Kollmorgen.
And, it turns out, in the hands of the officials.
Northern Iowa ran a pick route on YSU cornerback Julius Childs, an illegal play designed to free up Brett LeMaster in the end zone. With linebacker Ali Cheaib in coverage, Kollmorgen fired a pass to LeMaster that safety Donald D'Alesio batted away with no time left.
Ballgame.
Or was it?
The official threw a flag and what remained of the ninth-biggest crowd in Stambaugh Stadium history began mentally checking off the penalty yardage.
"At first I thought they were calling it against us," said D'Alesio, who was credited with breaking up three passes. "And then I kind of replayed the play [in my head]. Then I heard what the ref said and we were all excited.
"I actually saw Ali run [in celebration] and that's when I knew they called it on them and not us."
The official called offensive pass interference, the crowd exploded and YSU's sidelines emptied, filling the field with a sea of red.
"Everybody stormed the field and I didn't know what to think," said junior quarterback Kurt Hess, who had to sweat out the final 1:50 on the sidelines after tossing the game-winning touchdown, a 26-yard bullet to Christian Bryan. "A lot of energy, a lot of relief that we let out all at once.
"It was definitely a significant win for our football team."
UNI coach Mark Farley was unhappy both with the call — "I'm still waiting to find out [what happened]," he said — and the play clock, believing there should have been one second left.
"All the officials were holding up one finger," he said. "Then they huddled and seemed confused."
Hess completed 20 of 28 passes for 290 yards, four TDs and no interceptions, making two huge fourth-down conversions (including a 26-yarder to Will Shaw on the game-tying drive that may have been the best play of Hess's career).
Jamaine Cook added 146 yards rushing and a TD for the Penguins (4-0), who snapped an 11-game losing streak to the Panthers. YSU had not defeated UNI since 2000, the last year of Jim Tressel's tenure with the program.
That was also the last year the Penguins began a season 4-0.
"It's a great situation to be in," YSU coach Eric Wolford said. "At the same time, we've got to continue to remain humble. We have bigger things we want to do than just be undefeated for the first part of the season.
"If we want to play 15 or 16 games, right now we're just at the end of the first quarter. We've got four down and we're getting ready to start the second quarter."
That begins in two weeks. YSU has an open date next weekend, then travels to North Dakota State to play the defending FCS champions.
"We're going to enjoy this for 24 hours," Hess said. "We need to realize this is just one small step for us. We have bigger goals.
"We need to keep our minds on what we want to achieve."