Here's what $70 million will bring to Youngstown
Additive Manufacturing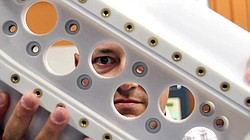 Video
An Avon Lake, Oh. company is using additive manufacturing.
YOUNGSTOWN
When doctors at a prominent Ohio hospital were planning the best way to operate on a patient with a gaping 3-inch hole in his skull, they turned to a plastics manufacturer near Cleveland for a solution.
The company, called rp + m in Avon Lake, was quick to help.
It specializes in additive manufacturing.
Engineers were able to take a CT scan provided by doctors and replicate the exact dimensions of the skull using three-dimensional imaging software. A blueprint was created.
Using additive manufacturing, a prototype was developed in just days. A refrigerator-sized machine interpreted the file and designed a unique program to manufacture the skull from scratch — all in one machine.
Afterwards, surgeons used the manufactured skull to map where exactly screws would be placed on a cranial mesh protecting the brain. It enabled them to practice their operation and provided a reference model during surgery.
What could have taken months to build was finished in less than a week.
This could be the future of manufacturing: additive manufacturing.
Last month, Youngstown, along with the rest of Ohio, West Virginia and Pennsylvania, were anointed pioneers of the technology for use in mainstream manufacturing. It came via the government's announcement of a $70 million National Additive Manufacturing Innovation Institute.
NAMII will bring together 65 colleges, universities, private companies and nonprofit organizations to vastly improve additive manufacturing, which essentially uses plastics, resins and metals to "print" a product by adding layers, unlike traditional manufacturing which subtracts or cuts out raw material to create parts.
Research and development aimed at further commercializing the technology will be conducted at the advanced manufacturing hub, opening on Thursday, at the Youngstown Business Incubator's annex on West Boardman Street.
What the consortium will achieve cannot be answered easily.
But in more than a dozen interviews conducted by The Vindicator over the last month, a clearer picture has emerged on what will happen at the advanced manufacturing hub, how the nascent technology works and what it means for both Youngstown and American manufacturing.
A SHIFTING INDUSTRY
For decades, restrictive trade barriers, high tariffs, cheap labor and pinched consumers seeking low-price goods have created a legion of adversity for American manufacturing to contend with.
The consortium signals a coming shift in the industry. Fading are the days when the American worker relied on his hands and mind to operate a lathe or a stamping press. The world itself is becoming increasingly driven by technology advances. The manufacturing industry is no different.
Manufacturing always has relied prodigiously on energy, raw material and labor to mass produce products.
To build a simple hand tool, a mold is required, metal parts need casting, and the product requires extensive machining to finish.
Foreign competitors have paired cheap labor and high-tech to persistently one-up American manufacturers for years. Other parts of the world already are ahead of the additive manufacturing curve.
"The last few decades of job losses have shown us what happens when we do not remain on the cutting edge of investment in equipment and our workers," said Barbara Ewing, chief operating officer at the YBI. "When an industry is evolving, you can either lead the charge, or you can get run over by the early adopters."
'THE GOAL'
Today, additive manufacturing is evolving.
The machines require far fewer workers, they use far less material, and it takes less time to manufacture parts. If the technology is further developed, mass production and labor would no longer be the linchpin of successful manufacturing — the technology has the ability to give American manufacturing greater dominance.
"The government has identified that this technology needs to become resident and institutionalized in the United States because of the effect, because of the capital sea change it's going to have on manufacturing in the future," said Mike Garvey, president of M7 Technologies, a Youngstown manufacturer and NAMII partner.
Currently, additive manufacturing is used in academics and niche industries. Its capabilities are limited to small-scale production, with an ability to produce around 2,000 units. General limitations in size of product, strength of material and how fast machines can deposit or print material restrain the technology from operating on a grander scale.
"The goal is to take the technology from where it is today to a level where it can be more easily incorporated and it is more widely used and economically advantageous," said Martin Abraham, dean of the STEM college at Youngstown State University, referring to the consortium's mission.
"We want to ground the technology and make it more ubiquitous."
Jim Cossler, chief executive at the YBI, says the technology needs to be user-friendly, intuitive and affordable enough so that the average worker can use it and the average manufacturer can purchase it. Today's machines can cost more than $800,000, and different machines are required depending on what's being built.
THE PROCESS
At rp + m, also a NAMII partner, Research and Development Specialist Clark Patterson demonstrated how additive manufacturing works.
A company in Ohio had requested an order for 200 retaining clips. The clips are used to prevent wires from tangling in moving machine parts. Without the clips, the company's production ceased because its machine was inoperable.
To fill the order with traditional methods would take about eight weeks because specialized tooling would be necessary for the task.
Instead, engineers at rp + m used computers to design a 3D blueprint. The blueprint was then converted to a file the additive machines interpreted and used to develop a process for building the clips.
Afterward, nozzles inside the machine slowly dispensed plastic filament, which looks similar to wire on a Weed Whacker, to meticulously build the clips layer-by-layer. The parts were finished in one day.
"Where China can't compete with domestic suppliers — especially the ones in your own backyard like some of the NAMII partners — is speed to market," said Jim Bednar, sales manager at rp + m.
"When our customers get their hands on something that just came off our press, it's critical to their development and their improving."
There are several kinds of additive manufacturing processes, each using different methods and materials. Some use tightly focused lasers to sweep and melt powder into products; others use liquid that solidifies under a laser.
The applications are endless, with great potential for customizing parts such as hip replacements and aircraft components no longer in production because the tooling has long been taken off production lines.
FUNDING THE REGION'S ROLE
For these reasons, the U.S. Department of Defense has expressed the greatest interest in developing the technology.
According to White House officials, the $30 million in federal funding will be disbursed over the next three years, with 60 percent of that amount to be provided by the end of 2012. The 60 percent will come entirely from the DOD's budget. The remaining award will be funded by the fiscal year 2012 budget authority of agencies such as the U.S. Department of Energy and NASA, with the rest doled out in March 2013 and March 2014.
An additional $40 million will be matched by consortium partners. After three years, the consortium is expected to be mainly self- sustaining.
"We have to develop value for our members so that what we create will be appealing enough for them to continue contributing funds in the long-run," said Ralph Resnick, president of the Latrobe-based National Center for Defense Manufacturing and Machining, which will lead consortium members.
"In this way, the consortium will act as a matchmaker or facilitator to bring various companies together on projects that solve manufacturing challenges," Resnick added. "We'll provide the necessary collaboration and solutions, for which we can charge a fee."
For Youngstown and the so-called TechBelt region of Ohio, West Virginia and Pennsylvania, the consortium's benefit will be in workforce training, retaining high-tech jobs, hands-on education at regional universities and a trickle effect that could find prominent companies such as Boeing or Lockheed Martin coming to the area if the consortium's research catches on.
But for now, other questions will take time to answer.
"This is really the birth of an entirely new form of production," Ewing said. "It will be used to make things that we're familiar with more efficiently, but it will also be used to make things that we can't currently imagine."
More like this from vindy.com