Family dinner marks 60th for DelGarbinos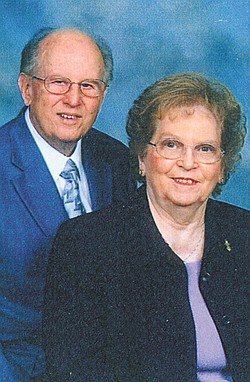 Photo
Mr. and Mrs. Guido DelGarbino
WARREN
Mr. and Mrs. Guido DelGarbino of Warren celebrated their 60th wedding anniversary July 8 with a Mass at St. Mary Church with the Rev. Bernard Schmalzreid as celebrant. The Rev. Charles Crumbley concelebrated.
Dinner followed at the Saratoga Restaurant hosted by their children.
They also renewed their wedding vows at the Anniversary Couples Mass on June 24 at St. Columba Cathedral in Youngstown, with Bishop George V. Murry as celebrant.
Their children are Doreen (Raymond) Vitullo, Karen (Mark) Cherol, Mark (Amy) DelGarbino and Terry DelGarbino. The family includes eight grandchildren and two great-grandchildren.
The former Rosemary Fellows and Mr. DelGarbino were married July 5, 1952, at St. Mary Church by the Rev. Blaine Pierce.
Mr. DelGarbino retired from Warren City Schools after 31 years as an elementary teacher and principal. He later worked 13 years in parochial schools, most of that time as teacher/ director of St. James School (latchkey) after-school program, which he founded in 1991. He is a life member of both the Ohio and Trumbull Retired Teachers associations.
Mrs. DelGarbino retired in 1993 from the Second National Bank, where she worked in the bookkeeping department. She previously was youth secretary at the YMCA and was an Avon representative for 33 years. She is a 35-year member of Warren Civic Chorus.
The couple are members of St. Elizabeth Ann Seton (St. James) Catholic Church.
They attend concerts and sporting events of their children and grandchildren. They also enjoy bird watching and feeding, dancing and listening to Big Band music.