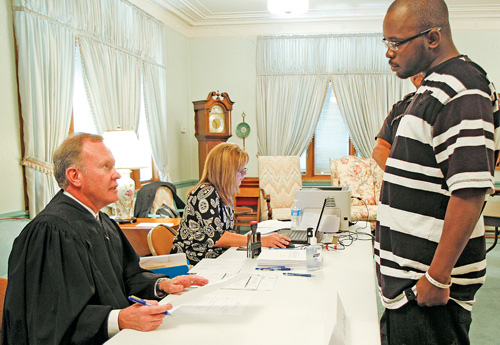 Photo
Sly meets with Judge Scott Hunter of Mahoning County Area Court. Sly had been charged with driving with a suspended license and failing to appear in court. The Safe Surrender program targets about 15,000 people with outstanding warrants in Mahoning County.
By JOHN W. GOODWIN JR. | jgoodwin@vindy.com
YOUNGSTOWN
YOUNGSTOWN RESIDENT ALBERT SLY walked out of First Presbyterian Church on Wick Avenue Thursday with a tremendous weight lifted from his shoulders.
Sly, 31, was charged with driving under suspension nearly four years ago and failed to appear for a court hearing. He has had those two arrest warrants hanging over his head ever since.
The legal matters are now being resolved.
Sly was one of dozens who participated in the Fugitive Safe Surrender Program Thursday. It allows people with outstanding warrants to turn themselves in at a neutral location and have the matter handled by a judge on site.
The program will continue today and Saturday.
"I just wanted to get everything cleaned up that I needed to get cleaned up," said Sly as he waited to see Judge Scott Hunter. "I am older now. I have a wife and kids, and this warrant was making it hard to do the things I need to do."
Attorney General Mike DeWine said the Safe Surrender Program was
designed for people just like Sly — those with low-level misdemeanor and felony warrants who want to resolve the matters and stop hiding from police.
Sly said the program has been helpful in alleviating the burden of the arrest warrants.
"Just having that fear of having these warrants. This is helping me out drastically. I can pay what I have to pay now and get this cleaned up," he said.
According to DeWine, Mahoning County has about 15,000 outstanding warrants. He is unsure how many people with warrants will take part in the program, but with more than two dozen people coming in the first few hours, he feels the program will succeed.
"We are off to a good start. What we find is that the numbers build each day. We have had about 25 now starting today and we are happy with that," said DeWine.
Most often the warrants are for low-level misdemeanors such as traffic offenses, DeWine said, but there are cases of domestic violence and other matters. He said the ultimate goal is to get the matters cleaned up and protect officers from
fugitives who may get nervous at the sight of a police officer.
Sly paid a fine and was given time to clear up matters regarding his driver's license. He will return to court at a later date to completely resolve the matter.
DeWine said there is $12,300 set aside from private donations to reimburse local law enforcement for overtime spent on the Mahoning County program, but all that money may not be used. He said future programs in the county will depend on what the residents of the county want.
"They do involve costs and effort from the local community, so a lot will depend on if communities want us to continue doing this," said DeWine.
Similar programs took place in Warren and Lisbon earlier this summer.