Youngstown's Oakhill to get $2.5M face-lift
Tweet
Published: Fri, September 21, 2012 @ 12:09 a.m.
Commissioners', prosecutor's offices targeted to relocate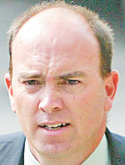 Photo
YOUNGSTOWN
Mahoning County commissioners plan to move their offices and those of the prosecutor from the county administration building to the third floor of Oakhill Renaissance Place.
John A. McNally IV, chairman of the county commissioners, made the revelation after Thursday's commissioners' meeting, in which the commissioners voted to borrow nearly $2.5 million for renovations at Oakhill, including those that may be necessary for those offices.
The commissioners are considering this option because the county needs to more fully use the county-owned Oakhill building, which is now only about half-occupied, McNally said.
The commissioners also would move their human resources and purchasing offices from the administration building on West Boardman Street in downtown Youngstown to Oakhill on the South Side, McNally added.
"We could fit the civil branch on one side and the criminal branch on the other side" of Oakhill's third floor, McNally said of the prosecutor's office.
"Regardless of who we decide to move up there next, it's going to require extensive renovations, and so, we decided we could go out and borrow this money now," he added.
Oakhill is the former Forum Health Southside Medical Center, 345 Oak Hill Ave., and it now houses the county's Department of Job and Family Services, Veterans' Service Commission, coroner's office, board of elections, and recycling division.
The county's auto title department will move there from the South Side Annex on Market Street in the next few weeks.
The city health department and the Mahoning-Youngstown Community Action Partnership rent space from the county at Oakhill.
McNally said commissioners would consider moving land and building-related agencies, such as the building inspection department and planning commission, from Austintown to the downtown county administration building.
There, he said they'd be housed with the county tax map and geographical information system offices and adjacent to the courthouse, where real estate records are housed.
GAINS OPPOSES MOVE
Prosecutor Paul J. Gains strongly opposes moving his office to Oakhill, having told the commissioners by email the move would be a hardship for his office, because all of his staff conducts daily business with the courts.
"Any such relocation will constitute a burden on this office and the administration of justice in Mahoning County," Gains said.
Gains said forcing his office to move would raise liability issues concerning use by his staff of personal vehicles, a parking problem, and "the general inconvenience of transporting files and evidence, which often includes firearms, between Oakhill and the courthouse in an unsecure environment." Not one county prosecutor's office in Ohio is more than a short walk from the county courthouse, he added. Judge Maureen A. Sweeney, presiding and administrative judge of the county's common pleas court, said it doesn't matter to her where the prosecutor's office is located as long as prosecutors are timely and available when they're needed in court.
Commissioner Carol Rimedio-Righetti said she wants the commissioners' office to stay centrally located downtown, but she thinks Oakhill might be a good place to consolidate the county's 911 dispatching functions, partly because it's on high land, which is an advantageous location for an emergency communications tower.
"I do want to fill the building," she said of Oakhill.
To improve the county's ability to borrow money at favorable interest rates, the commissioners agreed to put 60 percent of revenues from Ohio's new casino tax into a general fund stabilization reserve carry-over, which they hope eventually will accumulate to $8.1 million, which would constitute 15 percent of 2012 general fund spending.
The other 40 percent would go toward operation of county departments.
The county expects to get $450,000 in casino tax revenue next year, said Carol McFall, chief deputy county auditor.
$525K FOR DOG-POUND EXPANSION
The county commissioners also voted to borrow $525,000 toward the expansion of the county's dog pound to supplement dog and kennel fund money and private donations going toward that project.
The dog and kennel fund contains money from dog license fees and fines for violations.
Other borrowing the commissioners approved includes:
$625,000 for a sanitary-sewer line installation in Milton Township.
$420,000 for a water- supply line installation in Milton Township.
$320,000 for county jail improvements.
$270,000 for improvements at the county's juvenile justice center, including boiler and elevator replacements.