Poland Preserve development moves ahead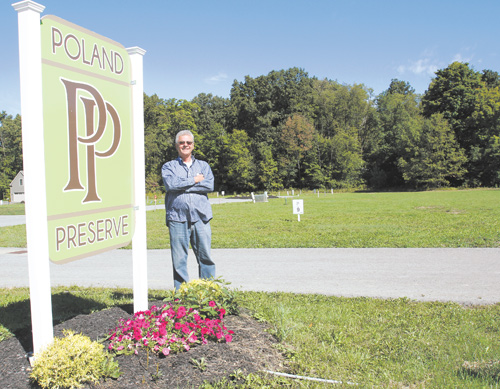 Photo
Richard Ohlin of Hubbard-based Quadland Corp. says he's optimistic about the economy as Quadland invests in a development on the former Edgar McCullough farm on North Lima Road, just north of the Five Points intersection in Poland.
POLAND
An old farm on North Lima Road was set to be turned into modern villa homes in 2008.
But as the recession lingered and the economy stalled, so did movement on the project — until now.
Hubbard-based Quadland Corp. took over the development, formerly Yellow Creek Preserves, and renamed it Poland Preserve. The development is on the former Edgar McCullough farm on North Lima Road, just north of the Five Points intersection.
"We believe there's been an economic upturn, and we're optimistic about the area and about the shale industry creating jobs for
the local economy," said Richard Ohlin of Quadland Corp.
Home-sales activity has remained steady with Mahoning County recording 218 closings in July, up by 13 from last month and an increase from 2011, according to the Youngs-town Columbiana Association of Realtors. Figures for August are not yet available.
"It's really all about the location with it being in Poland and with the freeway, shopping and the hospital nearby," said Carol Burns of Quadland Corp.
Four villa homes were built under the previous developer, leaving 15 more villa sites on roads named Preserve Boulevard, Parkland Court and Briarwood Court.
Poland Township Administrator James Scharville said the land was rezoned so individuals could purchase the lots in addition to the structure.
"In a condo development, it's common land in the development, and you own [your home]. Now, they'll own the land that they'll build on. It's still the same concept, except you own the lots," Scharville said.
Burns said the lots start at about $30,000, but Quadland "will entertain any offer." Howard Hanna Real Estate Services also is helping to sell the villa homes, she added.
Lot owners have a choice of four floor plans with two to four bedrooms, two to four bathrooms and options for a loft and basement. Villas range in size from 1,750 to 2,000 square feet and have access to gas, water and sewer hookups.
A park area on the west side of the development is planned, Ohlin said.
"We saw an opportunity here, and it seemed like a natural fit after the success of Springfield Ridge," said Ohlin, referring to a Quadland development in New Springfield.
Scharville said the township is seeing a renewed interest in new construction.
"I'm glad to see this project is going forward. There is a trend for new housing developments here. It's not huge, but it's promising," Scharville said.