'Black Monday' now symbol of Valley's resilience
---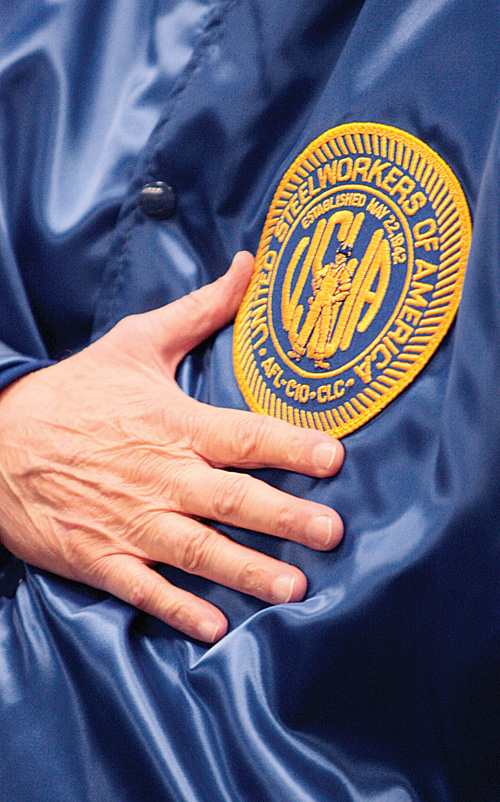 Photo
Mike Carney, former president and district director of the United Steelworkers of America, shows off the USW patch as he pauses for the national anthem at an event in Campbell on Wednesday commemorating the 35th anniversary of Black Monday.
By JAMISON COCKLIN
jcocklin@vindy.com
CAMPBELL
There are no easy words to describe what happened 35 years ago when thousands of employees learned their livelihoods would disappear.
A sense of devastation is how those who lived through the ordeal recall it.
On Sept. 19, 1977, Jennings R. Lambeth, president of Youngstown Sheet & Tube Co., made a shocking announcement that the company would shutter its Campbell Works in Campbell and Struthers.
Between the two locations, 4,100 workers made a living and provided for themselves and their families. For many, the industry was all they knew.
That day, known in the Mahoning Valley as Black Monday, eventually cost 5,000 workers their jobs, and marked the official beginning of a death-spiral for the Valley's steel mills.
All told, more than 40,000 would lose their jobs in the coming decade.
Today, for those who weren't around, not yet born or too young to remember Black Monday, it's a difficult thing to comprehend the indelible consequences of that day and its impact on a generation of hardworking steel workers.
"We expected layoffs, but there's no words to describe it; it was devastating," said William VanSuch, who was employed at Sheet & Tube. "We thought to ourselves, 'How the hell could they do this?'"
VanSuch, who today serves as Campbell's mayor, joined other public officials, mill workers and former representatives from United Steelworkers of America Local 1418 union that lived through Black Monday to share their experiences Wednesday and commemorate the anniversary at the Campbell Administration Building.
At its peak, Sheet & Tube employed more than 25,000 workers.

In the days and weeks that led up to Lambeth's announcement, workers at the Campbell Works were on a boom, putting in double time and reaping the benefits in their paychecks, said William Sferra, who in those days was president of the 5,000-member Local 1418.
"Then, about a month before the mill closed, we were told we'd have to tighten our belts," he said. "We were told things were going to slow down for awhile but a recovery would take place. It never happened."
On the day Lambeth was to make his statement, he had a four-page speech ready to go. He got through one page before he was silenced by questions and bewilderment from those who had gathered to hear him.

Sheet & Tube moved its headquarters to Chicago, and it was acquired by Jones & Laughlin Steel Corp.
The company changed hands one more time, but the Brier Hill facility in Youngstown began to phase out in 1979.
By August 1988, operations completely ceased, and S&T was no more.
Many lamented that an earlier owner, the Lykes Corp., essentially a steamship company, failed in adequately investing in Sheet & Tube's facilities and work force. As early as 1969, some contend, the company was on a slippery slope.
"Christmas of 1977 I was told to remember my friends," said Mahoning County Commissioner John A. McNally IV, who was 7 years old at the time.
"Christmas in the Mahoning Valley that year, and for many years down the road wasn't going to be festive or joyous for a lot of people. That sticks with me during the holidays even today."
Others at Wednesday's event simply recalled staring with their mouths open at the television when the news was announced.
Some said they were angry, but most of all, Black Monday was marked by disbelief.
Thirty-five years later, the change that Sept. 19, 1977, brought with it is still prominent in the minds of those who lived through the crisis, but it also signified the resolve of working-class communities throughout the Valley.
"We survived, and we continue to survive because that's what we do in the Mahoning Valley," McNally added.
More like this from vindy.com