Students share lunch with USDA official, Browns player
---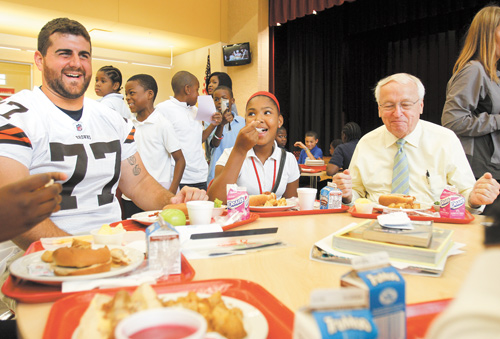 Photo
John Greco, left, a Cleveland Browns offensive lineman and Boardman native, and Kevin Concannon, the United States Department of Agriculture food and nutrition service undersecretary, eat lunch with Calayla Abron, a seventh-grader at Youngstown's Wilson Middle School. Concannon joined Wilson students for lunch Tuesday to talk about the new guidelines for school lunches, which require healthier options.
By DENISE DICK
denise_dick@vindy.com
YOUNGSTOWN
Cousins Zaire and Te'Jhae Glenn, both sixth-graders, are getting used to healthier lunches at Wilson Middle School.
"Sometimes I don't like to eat them because they look nasty, but the tacos were good," Zaire explained.
Te'Jhae likes the lunches, preferring this year's selection to last year's.
"They taste better," she said.
Wilson students were joined for lunch Tuesday by Kevin Concannon, the United States Department of Agriculture Food and Nutrition Service undersecretary, and John Greco, Cleveland Browns offensive lineman from Boardman.
Concannon is traveling the country, visiting schools and talking about the USDA's new school meal standards.
He and Greco ate alongside the students as children and staff collected Greco's autograph.
Changes, effective this school year, require schools to offer fruits and vegetables as two separate meal components, to offer fruit daily at breakfast and lunch and vegetables daily at lunch, offer more whole grains, offer daily meat or meat alternative at breakfast and provide low-fat and fat-free milk.
Sodium and fat also must be reduced or eliminated.
About 95 percent of city school students qualify for free and reduced lunches under federal guidelines.
Zaire chose a sloppy Joe topped with red peppers and onions, potatoes, grapes and low-fat milk.
Te'Jhae opted for a hot dog, potatoes, juice and low-fat chocolate milk.
Concannon said that like many adults, change doesn't come easily to children. The healthy alternatives must be introduced slowly to children.
It also helps if schools can find innovative ways to bring the new foods into the school meals.
In one Florida school, for example, the cafeteria served unsweetened applesauce, colored with Jell-O. It was a big hit with students.
"It also helps to give kids choices," Concannon said. "That seems to make a difference."
Sixth-graders Wuan Oliver and Michael Douglas, both 11, gave Tuesday's lunch a good grade.
Wuan moved to the city from Columbus and says the lunches here are better.
"I didn't used to like chocolate milk, but it's better here than in Columbus," he said.
Wuan also likes that he gets to choose items for his lunch.
He picked grapes and an apple to go along with his hot dog and potatoes.
Michael doesn't like fruit, so he opted for apple juice instead.