CRICKETS' BURGERS worth chirping about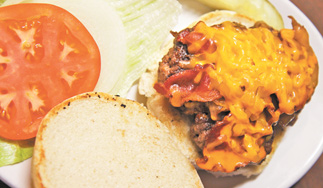 ---
By Anthony M. Fuda
Normally you have to be very quiet to hear the melodic sound of a cricket, but it's the complete opposite at Crickets Bar and Grille. You'll be dancing on the dining room floor when your favorite local band plays, or screaming at the TV as you cheer on your favorite team, or just hanging out and having a great time in this hometown-neighborhood bar and grille.
As you walk in, there is a nice bar where you can sit and have a couple of beers, or just take a few steps further and have a seat anywhere in the cozy dining area.
Crickets caters to pretty much everyone. The menu is fairly simple: appetizers, sandwiches, salads, wings and, of course, burgers.
A nice selection of burgers, too. For the smaller stomachs there are four 1/4-pound burgers: Burger, Cheeseburger, Double Burger and a Double Cheeseburger.
Then we move to Crickets' own 1/2-pound handmade burgers. Nine burgers are featured: Burger, Cheese Burger, Bacon Cheeseburger, BBQ Bacon Cheddar Burger, Mushroom & Swiss Burger, Crickets Burger (bacon, cheddar cheese, grilled onions and the spicy Crickets sauce), Brutus Burger (bacon, caramelized onions, sport peppers and stadium mustard), Rodeo Burger (cheddar, BBQ sauce and onion ring), and the Black & Bleu Burger.
The burgers are served on a lightly toasted bun and accompanied with your choice of fresh-cut fries, jojos, a cup of soup or a small salad. You can substitute onion rings (75 cents) or sweet potato fries ($1.50).
After looking over the menu and finding our favorite combinations, we made our decisions. Our waitress, Jordan Krawchyk, put up with our antics and made sure our evening was enjoyable as well as appetite pleasing.
Luckily, we went on Burger Mania! night when you can choose any 1/2-pound homemade burger with fresh cut fries for $6.25, or get a 1/4-pound Burger for $2.75.
We all ordered the 1/2-pound special which comes with a very, healthy (or unhealthy depending on how you look at it) portion of fresh-cut fries. The burger and fries were each served in their own baskets. The fries were thick and it seemed like the basket was never-ending. We would pick up 2 or 3 fries, look down, and still have a mountain left.
The burgers had a good grilled texture to them and were seasoned just right. The mediums had the right amount of pink to them and the medium-wells were not dried out like what so many places think medium well is. The toppings were fresh and crisp, enhancing the taste of the burger.
I had the Crickets Burger and enjoyed the nicely seasoned beef and thought it blended well with the tangy Crickets sauce and bits of bacon. The sauce was throughout the burger so you could enjoy the flavor in each bite.
Scott and Johnny both ordered the Brutus Burger and looked like they were on fire after they took a couple bites with the sport peppers.
Johnny said, "The sport peppers had a good bite and mixing with the onions and stadium mustard made my eyes water."
Scott had the same results, saying, "The burger tasted good, but if you are not a fan of hot peppers, you better order a couple extra beers."
JT had the BBQ Bacon Cheddar Burger and said, "I thought it was a good burger; beef had good flavor, bun held up well, toppings were good. And the basket of fries they give you is enough to feed two people! I don't get it — some places hardly give you a handful. Seems like an inexpensive way to make a meal memorable."
Crickets owner Amanda Holovatick said, "During the week we sell around 150 handmade half-pound burgers."
And we could tell how Crickets makes so many burger sales each week with the quality of service and the great tasting burgers we enjoyed.
More like this from vindy.com