Penguins QB has hands full for huge tilt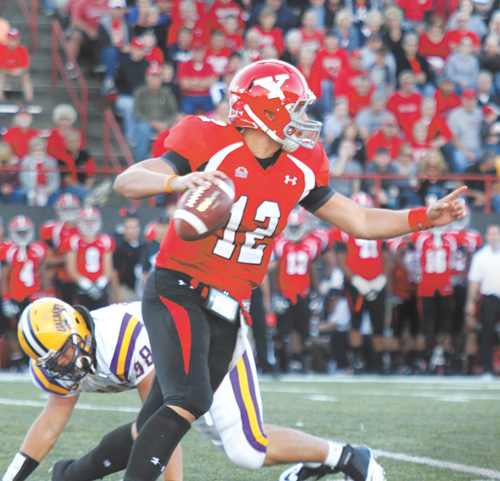 ---

Photo
Youngstown State quarterback Kurt Hess is 0-2 against Northern Iowa. He'll try to get his first win against the Panthers on Saturday night at Stambaugh Stadium.
By Joe Scalzo
YOUNGSTOWN
Just a few days after a disappointing performance against Albany, and just a few day before Youngstown State's biggest game of the season, Kurt Hess dropped a bit of a bombshell during Tuesday's press conference, admitting the locker room is divided about how much it supports the junior quarterback.
"It's kind of mixed," he said.
Some teammates are openly making fun of him — both to his face and behind his back — while others (most notably junior running back Adaris Bellamy) are openly campaigning on his behalf.
Such is life when you're a finalist for Homecoming King.
"Bellamy's all behind me, supporting me, trying to be my campaign manager," Hess said, smiling. "I haven't even started a campaign. He's like, 'Well, I'm going down there and telling everyone to vote for you. I'm going to put it on Twitter. ...'"
Does he want to win?
"Doesn't matter," he said, sighing. "This weekend I want to win. Homecoming King, later, maybe not."
While voting ends this week and the results won't be released until the Oct. 20 game against Southern Illinois, Hess could win a different kind of popularity contest on Saturday if he can engineer YSU's first win over Northern Iowa since Jim Tressel was walking the sidelines in 2000.
"I think it's kind of a measuring stick," said Hess. "To kind of see ... are the team that we think we can be? And are we going to get to where we want to go?"
The lopsided series — Northern Iowa leads 20-6 — masks how close most of the games have been. Wolford's two losses to UNI have both been by 4 points and both have come in the last 2:30. YSU came within a yard of pulling the upset last season, giving up the game-winning touchdown on fourth-and-goal at the 1 with 1:59 remaining.
The close losses aren't limited to Wolford, either. Three of Jon Heacock's losses to the Panthers were by two points or fewer and even Tressel (3-4) had a losing record in the series.
"We've had the ball bounce in our direction," admitted UNI coach Mark Farley, who took over in 2001 and has never lost to the Penguins. "All the games have probably all went down to the last minute, so I think we've caught some breaks and made some breaks.
"I don't know if there's a reason for any of that stuff [the streak]; that's just a number to us. At the same time, we have been fortunate because we've played some excellent Youngstown teams and we've been in some great games."
Wolford has repeatedly said this is the best team of his YSU tenure and the Penguins appear to be facing Northern Iowa at the perfect time. The Panthers are coming off physical losses to Wisconsin (26-21) and Iowa (27-16) over the last three weeks and have a date with defending FCS champion North Dakota State looming next week.
"At the start of two-a-days, I didn't want to focus on Iowa and Wisconsin because I knew the next two games were strong for our conference," said Farley. "So that's been the hard part. Now we've got to bring the same kind of intensity that we've had for the last two [FBS] games and go to Youngstown and have the same kind of level, and probably even further.
"Youngstown, I'm sure, is as excited about the game as much as anybody."
Saturday's game is a rare night contest at Stambaugh Stadium and the university has been pushing ticket sales harder than it did for the first two home games.
This week's games is being touted as a "Top 10 showdown under the lights."
If YSU can win, its next home game on Oct. 20 might be worthy of a better tagline: "Return of the [Homecoming] King."
"They're a big-time program and a big-time team with excellent talent and great coaching," Hess said. "We're gonna have to be on our stuff this week."