Zarrs celebrate 50th anniversary with party, cruise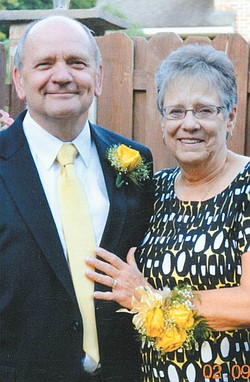 Photo
AUSTINTOWN
Will and Ann Zarr of Austintown celebrated their 50th wedding anniversary Sept. 2 at a dinner party hosted by their children at the home of their daughter Renee Ervin.
They received a special blessing earlier in the day from the Rev. Gregory Fedor at St. Joseph Church in Austintown, where they are members.
Their children are Renee (Jeff) Ervin of Canfield; and Michele (Tom) Warmouth and Dawn Jones, all of Austintown. Grandchildren are Ryan, Jena, Kyle, Zach, Taylor, Bryce, Hadley and Hayden.
The former Ann Madura married Mr. Zarr on Sept. 8, 1962, at St. John Polish Church in Campbell.
Mr. Zarr worked for Delphi Corp. for 37 years before retiring in 2003. He is a maintenance technician for Simco Management.
Mrs. Zarr retired from Quest Diagnostic Laboratories in 1997.
The couple will continue their celebration by taking a 12-day Mediterranean cruise.