50th anniversary of Grouberts is party occasion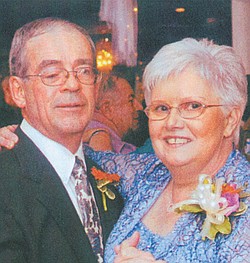 Photo
MR. AND MRS. DAVID GROUBERT
CANFIELD
David and Beverly Groubert of Canfield celebrated their 50th wedding anniversary Aug. 5 with family and friends at Old North Church in Canfield, where they attend. The party was hosted by their children.
The former Beverly Conkle and Mr. Groubert were married July 7, 1962, at New Waterford Methodist Church.
The couple are the parents of Terry DoVidio-Groubert of Poland, Brian (Lesley) Groubert of Boardman and Michael (Andrea) Groubert of Canfield. They have six grandchildren and one great-granddaughter.
Mr. Groubert retired from DRS LLC as chief financial officer in 2008. Mrs. Groubert retired from Northeast Ohio Psychological Associates as office manager in 1993.
The family also celebrated the 25th anniversary of Brian and Lesley and the 15th anniversary of Michael and Andrea this year.