HAPPY 97TH BIRTHDAY | ANGELO CRETELLA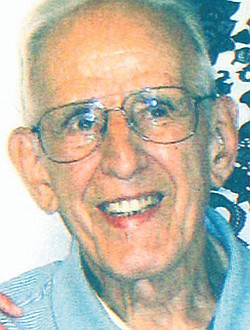 Photo
Date of Birth: Sept. 17, 1915
Residence: Girard
Parents: Joseph and Jennie Perretta Cretella
Siblings: Brothers Steve, Anthony and Joseph, and a sister, Pauline, are deceased.
Spouse: Angeline Izzo, whom he married June 13, 1942, at St. Anthony Church in Girard, died June 2, 1998.
Children: Marilyn (Jack) Sich of Youngstown; Susann (Joe) Timko of Liberty; and Michael (Margie) Cretella of Austintown.
Grandchildren: Michael (Risa) Cretella; Anthony (Stefanie) Cretella; and Joseph Cretella.
Education: Girard schools.
Employment: U.S. Steel McDonald Works, retired in 1979.
Additional information: He is an original and charter member of the Girard Knights of Columbus. He is a member and an enthusiastic volunteer of St. Rose Church in Girard and its Old Timers. He was also a member of the church's senior funeral altar servers and the church's grounds crew. He also built booths for the festivals. His favorite job was as a server at the St. Vincent de Paul Society's soup kitchen in Warren.