Mabel, bulldog stolen in Youngstown, found in Columbus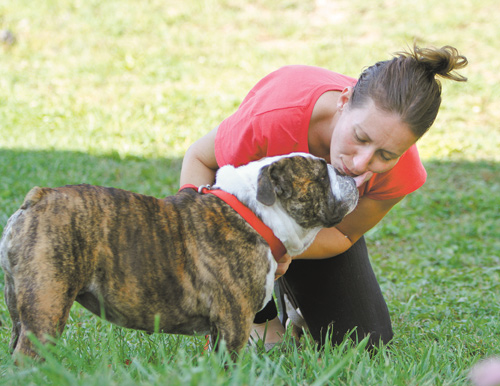 ---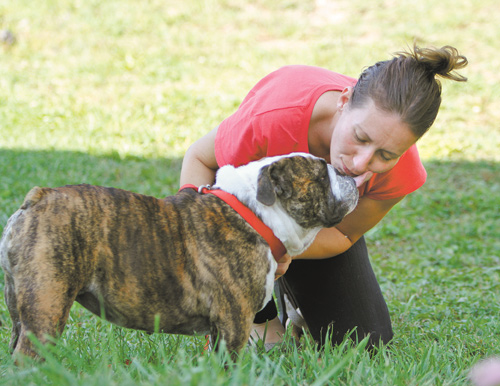 Photo
Mary Gump of Youngstown receives a kiss from Mabel at her home on the city's West Side. The bulldog was reported stolen at the Bob Evans restaurant along Belmont Avenue on Aug. 14. Gump helped in the dog's recovery and is housing Mabel until her owner, Brook Jillings of Boise, Idaho, arrives and reunites with her beloved pet sometime today.
By DANNY RESTIVO
drestivo@vindy.com
LIBERTY
An Idaho family has found its beloved pet after it was reported kidnapped a month ago. Mabel the bulldog, who was reported stolen Aug. 14, is back in Youngstown after she was found Wednesday in Columbus.

"I was just ecstatic after I found out, I didn't know what to do with myself," said Brook Jillings, Mabel's owner.
Jillings was on the road Thursday from Boise, Idaho, heading to Youngstown to reunite with her dog by this evening.
She credits all the good Samaritans who helped in the search, especially Mary Gump of Youngstown, who is housing Mabel until she arrives.
"I was just another person trying to find Mabel," said Gump, who hired a friend to drive to Columbus to pick up Mabel after she was contacted by Jillings on Wednesday.
The dog is now safe at her West Side home in Youngstown, awaiting her owner.
"I'm not sure how she ended up in Columbus," said Jillings. "But she's the right weight and she's eating. Her skin condition is a little out of control. We can get a handle on that."
Mabel's return began Wednesday, after Jillings was contacted by a woman in Columbus who said she had Mabel for about a week. Jillings said the woman bought Mabel for $500 from a man outside a Kroger grocery store on the west side of Columbus.
The woman contacted Jillings after she saw an advertisement for a missing dog on Craigslist that looked like the one she had purchased. The woman sent several pictures of the dog to Jillings before a local dog warden came and verified the identity of the dog, which had a microchip planted
inside her.
"I knew it was Mabel after I saw the pictures," said Jillings.
Mabel's ordeal began when Brook Jillings, her husband, Paul, and her 2-year-old daughter, Marley, were traveling from Pennsylvania to Washington. On Aug. 14 the family stopped to eat at the Bob Evans restaurant on Belmont Avenue about 4 p.m.
The family said they left Mabel in their minivan and returned 15 minutes later to check on her. They saw someone had broken into their van and Mabel was gone.
A week after Mabel went missing, Paul and Marley returned to Idaho while Brook stayed in Youngstown to search for her. Nearly a month after Mabel went missing, Brook flew back to Idaho on Monday. It took only two days before she received the call that notified her of Mabel's whereabouts. Although she praises the Columbus woman for calling her, she saves most of the credit for the Youngstown people who made her return possible.
"It's incredible to me that everyone came together for a complete stranger," she said. "I know I couldn't have done this on my own."
Jillings said she plans to pay the Columbus woman $1,000 for Mabel's safe return. She said she also is planning an event in Youngstown to celebrate Mabel's safe return.
Related Stories:
Idaho Family Searching for Bulldog Stolen at Liberty Restaurant