Volunteers descend on home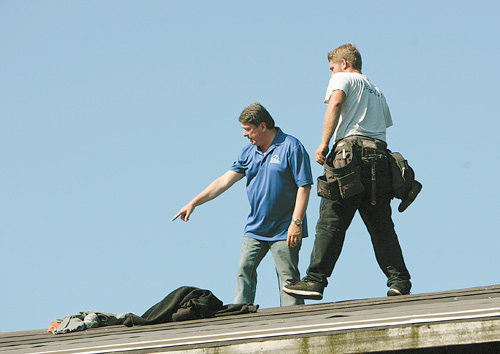 Photo
Sam Boak, of Boak & Sons Inc., inspects the roof of a Zander Drive home with Jason Brinsey of Boardman. Boak's company is one of the main donors for an HBA community project to remodel the home.
BOARDMAN
John and Mary Jo Knott stood in their front lawn Wednesday morning holding hands, their gaze fixed on the dozen volunteers who had descended on their home.
"We can't thank these wonderful people enough," Mary Jo said.
The couple has been married for 26 years and resides at 1067 Zander Drive in Boardman, which became the site of a Home Builders and Remodelers Association of the Valley community service project on Wednesday.
"My husband started renovating the house about 10 years ago, and we thought we could do it on our own. But then my husband got sick, and we ran out of time and money," said Mary Jo, 66, who herself is in remission from breast cancer.
John, 77, had taken off some siding and was planning to fix the roof above the kitchen, but several surgeries and a recent diagnosis of a brain tumor meant home improvements were left undone.
The house, originally built in 1960, was issued a township home-rule citation for its exterior appearance and shortly after, the HBA found out about the Knotts' situation, said Jennie Brewer, HBA executive director.
"We do several community projects a year, and we interviewed this family about two weeks ago and made a commitment to the project, which is a complete exterior project," Brewer said.
HBA members are volunteering their time and services to do roofing, siding, electrical and landscaping work on the home.
"Our members are local contractors and remodelers. They're your neighbors, sponsor of your child's baseball team, and it's great that even though they are competitors, they come together for community projects," Brewer said.
The HBA businesses involved in the project include Boak and Sons, Meander Homes, Carl Alexander Construction, Cross Lawn and Landscape, Banner Supply and Santon Electric.
Bill Clipse, HBA treasurer and owner of Meander Homes, is serving as the project's general contractor.
"It was a project that I felt needed to be done," he said.
He also thanked Wolford's Rolloff for donating a dumpster and Carter Lumber for donating materials. The project should be completed in less than three weeks.
Zoning inspector Anna Mamone said her office has been working with the Knotts ever since the property was brought to their attention.
"I am very happy that we have people who have come forward and offered assistance to those who are in dire need of it. We couldn't have asked for better unity of the community," she said.
Mary Jo said the home-rule violation "was the best thing that ever happened to us" because it led to people learning of their situation and helping.
"That people would do this is beyond by comprehension. I want to give all of them a big hug, shake their hand and say 'thank you,'" she said.